Jean-Marc Monnet is one of those winemakers an importer dreams about finding: no website, no press reviews, no American importer, not even a road sign. Located in Juliénas in the Beaujolais, Monnet's wines are pure gamay — clean, juicy, and bursting. They're vibrant expressions of the lush rolling hills from which they come.
Many readers picked up some of Monnet's 2015 Juliénas earlier this month, a chewy, gulpable red Burgundy with exceptional depth. Today we're re-releasing his 2015 Chiroubles, a sister cuvée to the Juliénas, with more elegance and finesse. Like most other 2015 red Burgundies, this is bursting with ripe, sunny fruit.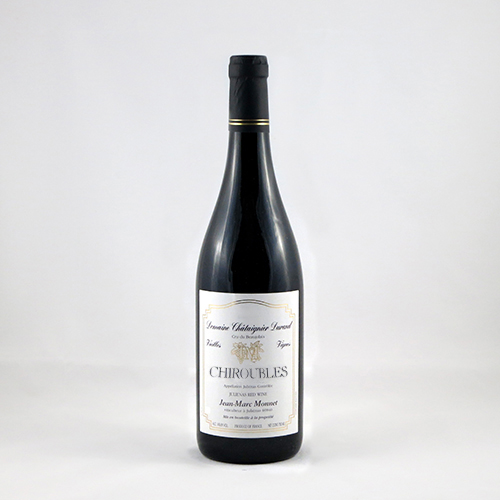 The Chiroubles is prettier than the Juliénas, with a perfumed and floral nose, but the same juicy, gulpable mouthfeel. The nose is precise and ripe, with notes of cranberry, violets, graphite and minerals. The mouth is a delight — vibrant with crackling fruit and delicious, juicy tannins.
With the weather finally catching up with the calendar next week, this should fit right into your autumn red rotation. The combination of supple tannins with ripe young fruit means it pairs perfectly with a wide range of foods — think hearty winter salads or simple cheese on crackers. And if there's any left it's a perfect wine for thanksgiving, but we're betting it won't last that long.
____________________________
Monnet Chiroubles 2015
Ansonia Retail: $20
6+ bottle price : $16/bot


FREE EAST COAST SHIPPING ON ANY 12 BOTTLES