Oysters are a common sight at French markets. Huitres are a natural pairing for wine, in both the gustatory and philosophical senses. Just like wine, they're an expression of terroir (or merrior, if you like) whose character changes with their origin. And in matters gustatory, well, it's a match made in heaven.
Having relocated much of the Wilcox family to Maine in recent years, we've taken a liking to oysters on this side of the Atlantic as well. Our consumption of shellfish has skyrocketed, as has our collection of whites to match. Oysters pair well with lots of French whites, but nothing quite so well as the unoaked and barely-oaked wines from Chablis and Muscadet.
So here's a mixed case designed for oyster lovers — three Chablis and a Muscadet. And packed with each case will be one of our brand new Ansonia Wines Oyster Knives. (If oysters aren't your thing, it's a handy slicer for a piece of fromage.)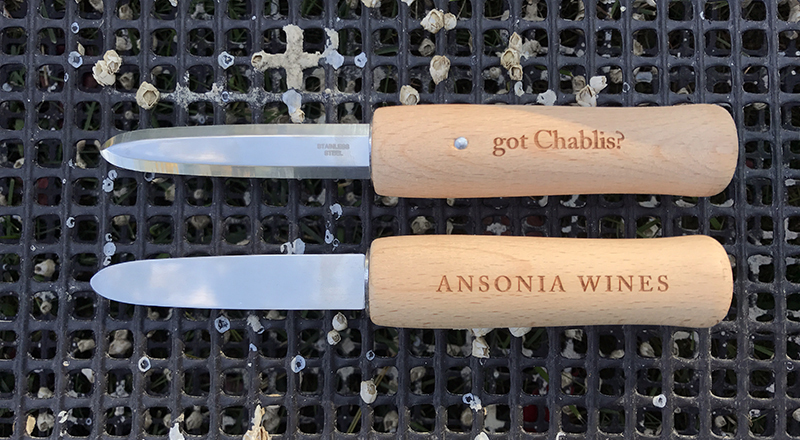 Gautheron Chablis Vieilles Vignes 2015
Gautheron's old vines produce a Chablis with an extra dose of richness. The classic minerals and lemon peel are there, but there's a tad more material to round out the mouth.
Collet Chablis VV 2015
Collet's old-vine chablis is more classic, with no oak at all and a brisk mineral line. Look for notes of mango and lime zest in the nose, and green apple, stones, and saline in the mouth.
Gautheron Chablis 1er cru Vaucoupin 2015
Gautheron's most elegant wine is their premier cru Vaucoupin. Recalling the complexity of a fine Côte d'Or white Burgundy, this is luxurious and elegant, with notes of white flowers and lemon.
Martin-Luneau Muscadet "Gorges" 2013
Muscadet is near the mouth of the Loire River, not far from France's finest oyster region. This classic pairing is aged on lees for three years, showing brioche, baked lemon, and stones.
____________________________
Mixed Case: Oyster Pairing Sampler
Ansonia Retail: $330
case price : $285/case
+ Free Ansonia Oyster Knife


FREE EAST COAST SHIPPING ON THIS CASE