Elegance.  For fans of Syrah, France's Northern Rhône Valley is Mecca. It's at the grape's northern ripening limit, a geographic marker where grapes usually find their finest expression. The most famous reds from the Northern Rhône — from towns like Côte Rôtie, Hermitage, and St-Joseph — are some of the longest lived and most highly sought after wines in the world.
Many wines from the Northern Rhône require patience and investment. Our source for Côte Rôtie, the Domaine Bonnefond, makes classic, delicious wines that age beautifully. (If you're in the market for some to put away, we've got suggestions.)
But for readers with nearer term thirsts, Bonnefond's simpler Syrah is an exceptional value. It requires no patience at all, and at $25 only modest investment. If you've got a taste for Northern Rhône Syrah, but want something to drink while all your fancier wines mature, look no further.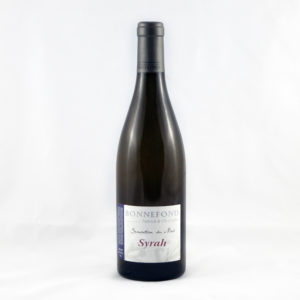 Everyday.  Robert Parker calls the Bonnefond Domaine "among the finest in the appellation," and Vinous's Josh Raynolds notes Bonnefond's style as "refined" and "extroverted." We have long marveled at their ability to achieve wines that are at once rich, mouthfilling, and lively. They have all the dark, meaty characteristics of Syrah, but with unusual lift and grace.
The 2016 Syrah "Sensation du Nord" from Bonnefond is, as one taster at the warehouse last weekend put it, "highly drinkable." The nose is spiced and expressive, with notes of blackberries, tapenade, black pepper, and game. The mouth is beautifully balanced — at 12.5% alcohol it's elegant and long, with dense plum fruits and graceful minerality.
With its fresh fruit and peppery mouthfeel this is excellent food wine — lamb and duck are particularly nice matches. But even a simple, hearty French onion soup will pair beautifully and lead you right into autumn.
____________________________
Bonnefond Syrah 2016
Ansonia Retail: $30
6+ bottle price : $25/bot


FREE EAST COAST SHIPPING ON ANY 12 BOTTLES