Wisdom.  One thing that separates good wines from great ones is their ability to age. With each passing year the difference between a Côtes du Rhône and a Châteauneuf-du-Pape increases. It's the same with Burgundy and Bordeaux, and also with today's subject: Champagne.
We often preach the value in crémant, and it's true that for near-term drinking, the sparkling wines from elsewhere in France can provide unusual value. But in sparkling wine, Champagne is alone in its ability to age. Like the best wines of Burgundy and Bordeaux, the finest Champagnes have enormous potential given careful and proper storage.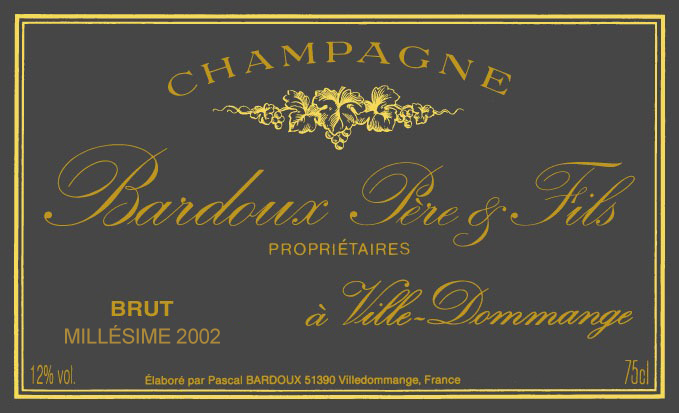 Bifurcated.  All Champagnes live two lives in the bottle. The first is pre-disgorgement: unfiltered, fermented wine is bottled, dosed with sugar, and sealed tightly. The wine ferments again, and CO2 created, which would normally escape from a barrel into the air, dissolves into the wine. The yeast cells collect in the bottle as lees, and over time deliver new layers of complexity.
Crémants must sit on the lees for at least 9 months pre-disgorgement, non-vintage Champagnes at least 18 months, and vintage Champagne at least three years. After disgorgement, in which the lees are removed and the cap replaced with a cork, the wine begins its second life. Champagne ages more quickly during its second stage, adding the caramel and nutty notes to the fruit and bubbles.
Today we're excited to offer a Champagne whose long first life has just completed, but whose second life has just begun. We've managed to reserve a few magnums of Pascal Bardoux's 2002 Vintage Champagne, disgorged this spring after 15 years on the lees. Bardoux's whole lineup will be in next Sunday's futures offering, but we're opening up the bidding early on this special opportunity.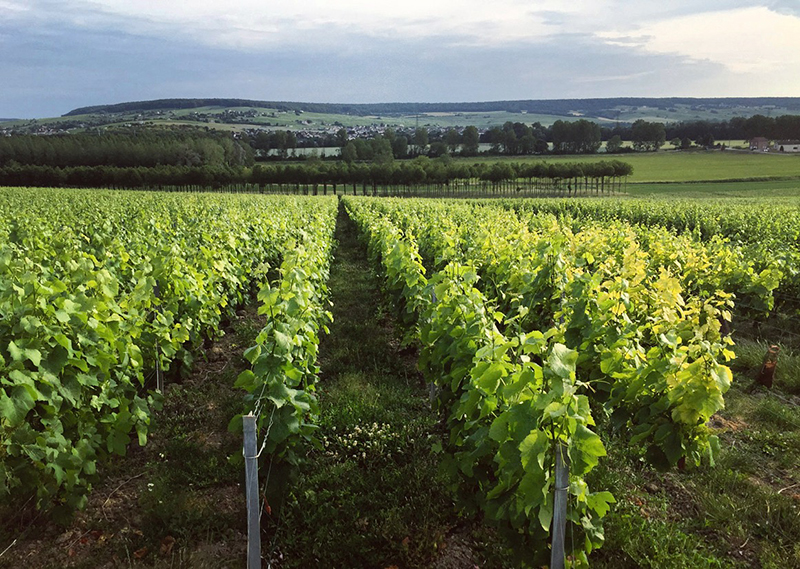 Grower. Pascal Bardoux is a small-scale, fifth generation vigneron outside Reims. In a region full of fancy tasting rooms and glitzy brochures, Bardoux's humble demeanor is a breath of fresh air, and his Champagnes are among the best we've had. During our last tasting he was kind enough to show us several of his vintages available in magnums.
Jancis Robinson called 2002 "a magnificent year for Champagne," and though we've only tasted Bardoux's of late, we can't disagree. We were amazed at the fresh and clean mouthfeel of the magnum of 2002 Pascal opened for us. Over the last 15 years the wine has gained an extraordinary complexity, with subtle notes of dried fruits, apple pie, fig, oats, and dried roses.
Bardoux's 2002 magnums offer a chance for you to set your own course — the first life is complete, the second is up to you. Magnums of any type of wine are festive by nature. But open a magnum of Champagne, particularly one from a small grower-producer with impeccable provenance, and it will be an experience your guests won't soon forget.
____________________________
Bardoux Champagne 2002 (1.5L)
Ansonia Retail: $200
Futures price : $169/bot
Case Retail: $1,200
Futures price : $995/case of 6
Email Tom to place an order.
or call Tom: (617) 249-3657
LIMIT 6/PERSON UNTIL SOLD OUT