The first inquiries about the 2015 Michel Gros lineup started coming in more than a year ago. Our best-known producer; the vintage of a generation; "just want to make sure I don't miss it." Back in April, our barrel tastings confirmed 2015's considerable hype — an excellent vintage, from top to bottom.
And then last month, as Wilcox père joined the harvest team chez Gros, just-bottled 2015s opened at every dinner provided the final confirmation. These are magnificent wines by a legendary producer from what may be the best vintage in decades.
We're excited, enfin, to offer the entire 14-wine lineup of 2015s from Michel Gros in our final Futures brochure of the year — October Futures comes out next Sunday. But we're opening up the bidding for 2015s early on a wine in perennial short supply: Michel's Bourgogne.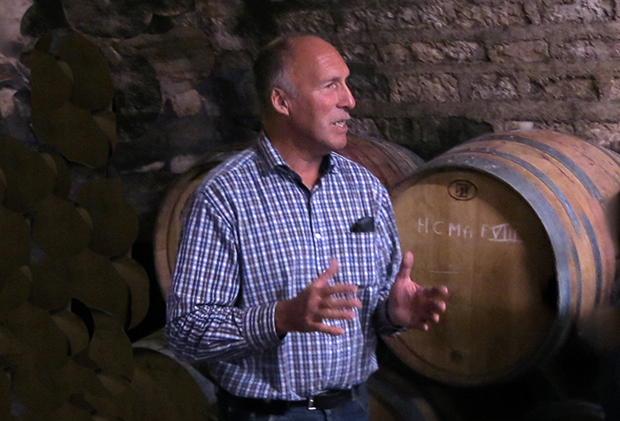 Great winemakers make excellent wines from even the humblest of origins. Gros is famous for his very fine red Burgundies, and we can't recommend them enough. But for more everyday enjoyment, Gros's simpler wines show the refinement and class of much fancier bottles.
Like the rest of the 2015s, Gros Bourgogne 2015 is ripe, juicy, toasty, and elegant. There's far more refinement here than most reds at the Bourgogne level. Look for silky tannins, notes of raspberry and plum, and an earthy, complex palate. Burghound (Allen Meadows) listed Gros's 2015 Bourgogne as one of the "top value wines of the vintage," calling it "fine" and "sleek" with a "delicious finish."
We expect Michel's the rest of 2015s to drink well for decades to come. But this one, scheduled to arrive in late November, should be a treat by the holiday season. For a Burgundy lover, this is about as good a wine as $25 will ever buy.
____________________________
Michel Gros Bourgogne 2015
Ansonia Retail: $420
Futures price : $295/case
Email Tom to reserve this wine.


AVAILABLE BY THE CASE AND HALF-CASE