Beaujolais is the source of plenty of uninteresting wine. Fully a third of the region's production is the Beaujolais Nouveau, a cheap insipid red rushed to market a month after harvest. But the rest of the region contains many undervalued wines, some in the same class of top wines from the north of Burgundy.
No Beaujolais source has more impressed us than Laurent Perrachon." From meticulously cultivated old vines and careful use of oak, Perrachon creates remarkably delicious and refined red Burgundies. We're not the only ones to notice; the domaine is among the only Beaujolais producers reviewed (and praised) by both Josh Raynolds (Vinous) and Allen Meadows (Burghound).
These are honest, complex, delicious red Burgundies; they just happen to be made from Gamay.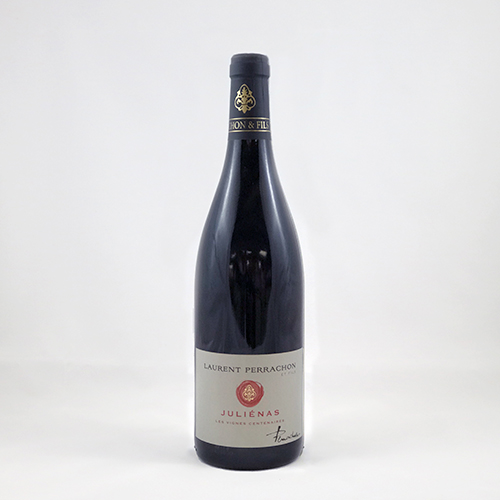 We recently wrote about Perrachon's terrific 2015 Moulin-a-Vent; today we're suggesting Perrachon's 2015 Juliénas "Vignes Centenaires," a wine made from vines planted more than a century ago. Perfectly extracted and carefully aged in oak barrels, this wine shows a dark, brooding nose of anise and blackberries. Burghound was effusive, awarding 93 points, finding "dark berry," "spice" and "incense," calling it "delicious, velvety and caressing."
If you like Beaujolais for its fruity, carefree character, this might not be your cup of tea. Perrachon's 2015 Juliénas is dense, rich, and exceptionally long, with far more stuffing than you find in most $30 Pinots from Santenay or Maranges. The tannins are juicy and silky but sturdy, meaning this should develop easily for another 5+ years.
This wine's best days are certainly in front of it. But with a hearty meal, a carafe, and a few enthusiastic friends, this bottle is a stunner. Bring a few bottles to Thanksgiving next month, and no one will guess it's Gamay.
____________________________
Perrachon Juliénas "Vignes Centenaires" 2015
Ansonia Retail: $30
6+ bottle price : $25/bot


FREE EAST COAST SHIPPING ON ANY 12 BOTTLES