Michel Gros is the most recognizable producer in our portfolio. His wines are elegant and precise, often showing smoky or toasty qualities, and always silky and beautiful. A few years ago Clive Coates MW listed Michel Gros in the top 17 domaines in all of Burgundy — a list that included Romanée-Conti, Leroy, and Comte Lafon — and highlighted the "nobility and elegance" of his wines.
Some of the domaine's cuvées require both investment and patience, but not all of them. Gros makes a handful of wines from less famous zip codes — their vines receive the same care, with juice vinified in the same manner. These "petits vins" aren't as complex or long-lived as his Clos Vougeot, but they offer a chance to sample the brilliance of the domaine at a more affordable price.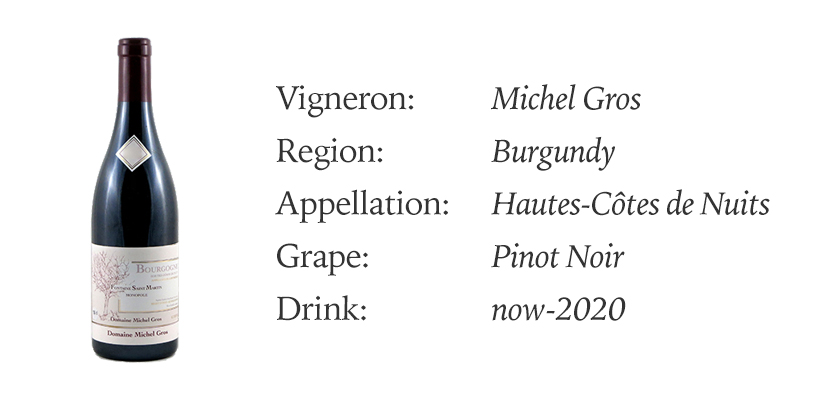 The Fontaine-Saint-Martin vineyard is named for a nearby Cistercian abbey that dates to 1127. The hillside of vines was in production for centuries; more recently Michel and his father have had vines there for 40 years. Michel used to blend the wine from this plot into his Hautes-Côtes de Nuits, but in 2014 he determined the terroir was sufficiently distinctive to merit its own cuvée.
The Fontaine Saint Martin is indeed special — its soils are the same mix of marl, clay, and limestone found on the Hill of Corton. The nose is unusually dark and enticing — look for black raspberry, violets, and a whisper of menthol. The mouth is crisp, full and lively, with Gros's signature notes of toast, cassis and dried roses. The Wine Advocate found an "engaging bouquet" and "great tension," awarding 91 points and announcing: "An excellent wine, an excellent debut."
If you don't already know them, we highly recommend trying Michel's fancier wines some day — they can be truly extraordinary. But in the meantime, here's a chance to get to know Gros at a friendlier price.
____________________________
Michel Gros Fontaine-St-Martin 2014
Ansonia Retail: $45
3+ bottle price : $39/bot


FREE EAST COAST SHIPPING ON ANY 12 BOTTLES