From our deck above Harpswell Sound we can watch the turn from Summer to Fall. Morning still carries the throaty rumble of lobster boat engines, but there are fewer traps and fewer boats now. Last evening half a dozen seals returned to the rocks beyond our dock; soon they'll move south and stay there until Spring. Morning occasionally brings dense fog, and the rising sun burns it away slowly, revealing our view bit by bit: first Dog's Head, then Zeke's Island, then High Head. It might easily be a painting by Bingham or Catlin.
I returned about a week ago from working the harvest at the Domaine Michel Gros in Vosne-Romanée. Very different in obvious ways from the coast of Maine, but not entirely so. Striking topography defines both places. Here it is a jagged border between land and ocean, there a thirty-mile hillside with a near-perfect combination of soil, rock, sun and airflow. Each has drawn admirers for centuries, and each produces unique products of remarkable quality.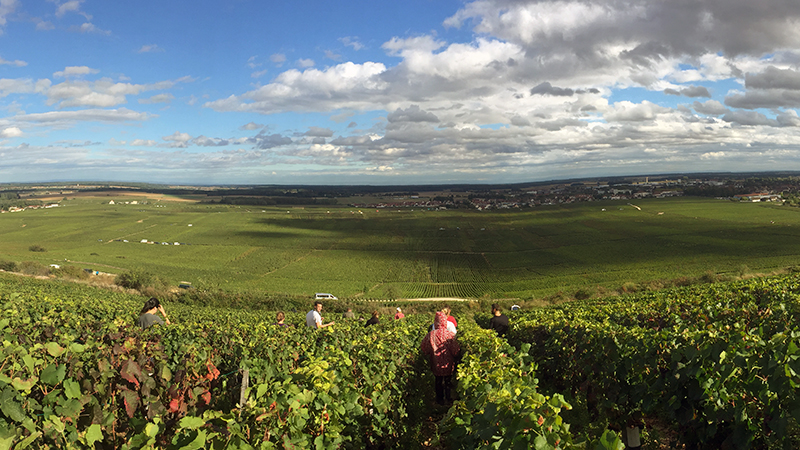 For years we have written about Michel Gros's exceptional terroir: the lone premier cru monopole in Vosne-Romanée along with excellent plots in Chambolle-Musigny, Nuits St. Georges, Morey St. Denis and the Hautes Côtes de Nuits. What the harvest showed us is how much work it takes to tend this terroir. Michel has been producing some of Burgundy's finest wines for more than four decades, and so he brings vast experience to the art. His days are long and tiring — I found him in the cuverie every morning as I descended from my bunk on its upper floor, and I saw him working there every night as I went off to bed.
Managing the harvest is an art, even with forty years of meticulous records about weather and ripeness levels in every vineyard. Judgments about harvest timing can be crucial to the results. The element of chance remains, too, as I learned when we chatted about making those choices. The team of forty or so hand-harvesters must know the start date at least two weeks in advance, and so in the end the critical decision of when to begin is partly a guess, if a very educated one.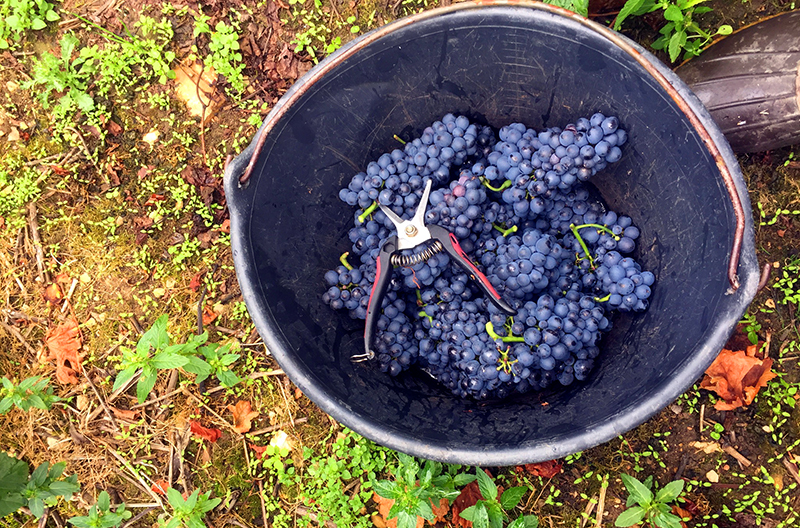 The harvesters are not the occasional labor found in vineyards across France at harvest time. At the Domaine Michel Gros the same people come every year, and from far flung places. There are a Canadian from Calgary, a radio disc jockey from Berlin, and others from as far as Taiwan and as near as Belgium — all join join the local French regulars every year in what resembles a family reunion as much as a week of physical work. (At lunch one day, someone noted that our table of ten harvesters had citizens of seven countries.) During the week we celebrated the 50th consecutive harvest of the dean of the vendangeurs, and many others had not missed a harvest since the 1980s or 1990s.
They work hard, in the vines for three hours every morning and four every afternoon, until all the grapes are in and the indigenous yeasts have begun their work. If we ever wondered how Michel's wines were so consistently clean and precise, we do no more. The coupeurs are told to clip every unripe grape and every bit of mold from their bunches. Then every pail gets sorted again by someone on its way into the boxes — and as if this double inspection weren't enough, Michel personally inspects every box as it is hoisted onto the trailers. The loaded trailers then roll slowly back to the Domaine, where the grapes are looked over yet again before they go into the crusher.
The harvesters work, eat, and drink with equal parts gusto and good humor. The day starts with a light French breakfast — bowls of strong coffee and warm baguettes slathered with fresh butter and homemade jams and jellies the harvesters bring each year. Lunch and dinner are both full meals, each with entrée, plat, a cheese course, and dessert — all washed down with a prodigious quantity of wine from the domaine. The traditional apéritif is the Communard, a blend of red and red: Crême de Cassis and vin rouge (hence the wink to Marx in the name).
With the evening meal, Michel brings out the just-bottled wine from the vineyards harvested that day. It's a wonderful way to reflect on what the work is all about, and it makes every dinner something special. I had the great good fortune to be there just after the bottling of the 2015s. They are terrific, and if anything we have understated their great potential in our earlier fulsome praise for them. The only challenge with the 2015s will be keeping our hands off them while they develop in the bottle — they are ripe, full and simply delicious already.
The harvesters are a companionable and occasionally boisterous group. Near the end of a picking day the unripe bunches become ammunition, with volleys of grapes flying between rows. And for newer pickers, there is always the risk of "le baptême," a surprise baptism where an entire pail of crushed grapes is dumped over an unsuspecting newcomer's head. Harvesters are known to show up in costume from time to time, and late one night a parade of musicians with improvised instruments passed through my sleeping area above the cuverie.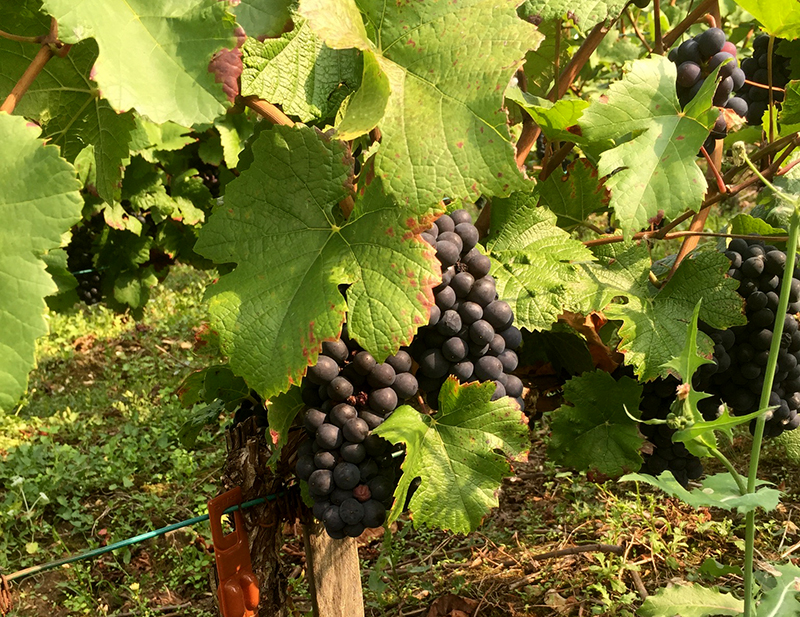 At the end of the harvest there is the Paulée, the traditional banquet to mark its end. It begins with a Champagne reception in the cuverie, where the aromas of active fermentation mix with the bubbles and the hors d'oeuvres. The celebration continues in the dining room, where the table is set with magnums of older wine from the cellars. There are speeches, songs, prizes and abundant good cheer. This vendangeur, having done more physical work in a week than he did in a quarter century as a Philadelphia lawyer, crept off to bed around midnight. Others returned closer to daybreak.
People have made wine in the Côte d'Or for more than a millennium. Among the early stewards who understood its unique excellence were the monks from nearby Abbeys — Citeaux, Vergy, and others — who methodically mapped its climats from taste alone. Michel Gros's family has owned Vosne-Romanée's Clos des Réas for more than 150 years, and certainly Michel is as good a steward as his family's extraordinary properties have known. There's more to making the "supremely elegant" (Jasper Morris, MW) wine than terroir alone, and it was a great pleasure to spend a week watching the culmination of his year's work in the vineyards. Two years from now, we will be eagerly pulling corks to sample the fruits of that labor.
MW