Cotes-du-Rhône is one of the most recognizable brands in wine. From wine bars around the world to your local corner wine shop, there's no shortage of Côtes du Rhône around. And such ubiquity can make it hard for wines to stand out.
We've long enjoyed the Côtes-du-Rhônes from Goubert, Malmont (coming back soon) and Coulange, but we're excited to add a new one. Today's is the 2014 Côtes du Rhône-Villages from the Château Maucoil, an estate at the northwestern end of Châteauneuf-du-Pape.
Our main criteria for Côtes du Rhône are threefold: it should be rich, inexpensive, and refreshing. The first two are easier to achieve, but the third can be tricky. And it's exactly for its refreshing, perfectly balanced mouthfeel that we decided to add this wine to our lineup.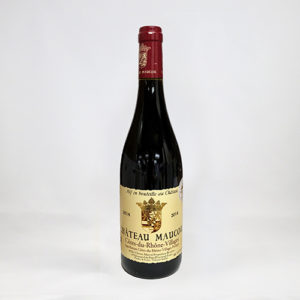 Maucoil's 2014 Côtes du Rhône Village is a delightful blend of 50% Grenache, and 25% each of Carignan and Syrah. The nose is dark and earthy, with notes of licorice, leather and plums. In the mouth is dark and rich but strikingly lively — after a midweight palate of cherry jam and lavender, it finishes clean and very fresh.
This is a food Côtes-du-Rhône, perfect for cheese and crackers at your holiday party. (In fact if you're dying for some and are within FedEx's two-day range from Boston, we can ship you some for Thanksgiving.) For a rich Southern red that won't tire your palate, look no further.
____________________________
Maucoil Côtes du Rhône-Villages 2014
Ansonia Retail: $24
6+ bottle price : $19/bot


FREE EAST COAST SHIPPING ON ANY 12 BOTTLES