The 2015 growing season brought warm weather to nearly every region in France. The wines from Burgundy and the Northern Rhône are some of the finest in a generation. Those from the Southern Rhône are dense, very rich, and easy to enjoy. And the 2015 reds from Bordeaux are some of the smoothest and roundest in years.
The 2015 Bordeaux reds are not without structure, but the examples we've seen — particularly from the left bank — are soft and lush, with ripe fruit and a beguiling mouthfeel. We've just received the 2015 Lafont-Menaut from Pessac Leognan, and it's delightful. We can't say for certain how it will age, but open a bottle today and we'll be surprised if you have any left in a year.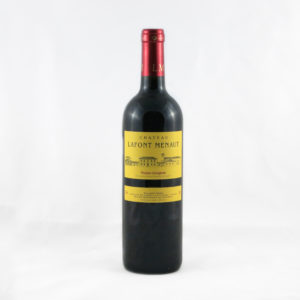 Lafont-Menaut is the second property from the owners of the prestigious Chateau Carbonnieux, a legendary Graves estate. The Perrins farm their less famous terroirs with the same care as Carbonnieux, and the Lafont-Menaut rouge is among the most consistent wines we import.
The 2015 is a smooth, bold, drink-now red Bordeaux — perfect for your guest with a taste for richer reds. Decanter's Jane Anson called the 2015 "lovely" with a "gentle floral-edged minerality." We found it chocolaty and chalky, with notes of dried roses, plums, toast, earth, and spice.
Many wines from Bordeaux require one mortgage to purchase the wine and another to build a cellar for decades of storage. The 2015 Lafont-Menaut requires neither — it's a drink-now red Bordeaux for less than price of a fancy corkscrew.
____________________________
Lafont-Menaut Pessac-Leognan rouge 2015
Ansonia Retail: $30
6+ bottle price : $25/bot


FREE EAST COAST SHIPPING ON ANY 12 BOTTLES