Beaujolais has always had a turbulent relationship with the rest of Burgundy. To many in the Côte d'Or, the Beaujolais represents overmarketed and undercrafted wine. But in recent years the Beaujolais has undergone a renaissance, as the prominence of Nouveau recedes and more vignerons make ageworthy wine.
Among our favorite serious Beaujolais sources is Laurent Perrachon, a multigenerational domaine working very old vines with meticulous care. Perrachon has more fans than just us — the domaine regularly receives top notes from Jancis Robinson, Josh Raynolds (Vinous), and Allen Meadows (Burghound).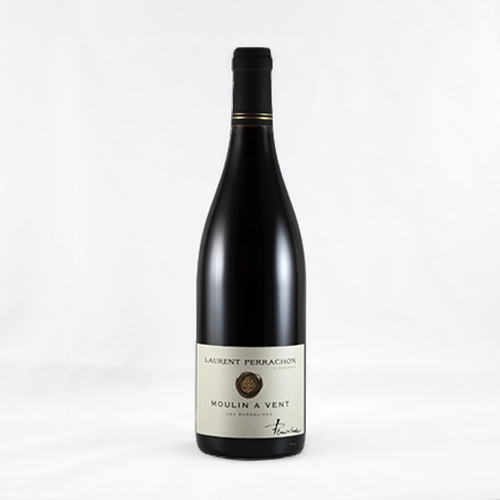 Jancis Robinson calls Moulin-a-Vent the "most highly rated of all the Beaujolais crus," and after a sip of today's wine it's not hard to see why. Perrachon's Moulin-a-Vent "Les Burdelines" is as dense and bold as any Beaujolais we've tasted. As with Perrachon's other wines, this bears more resemblance in mouthfeel to a Northern Rhône Syrah than a Pinot from Burgundy.
Today's release is of the 2014 Burdelines, a wine Burghound awarded 90 points and called "delicious and refreshing." Perrachon keeps this wine in oak for a bit longer to help it knit together, and so the current release is a year behind their other wines. The last few bottles of last year's 2013 Burdelines were some of the most enjoyable Beaujolais we've ever had, and we expect the 2014 to age with similar verve.
Today, however, the 2014 "Burdelines" needs a half an hour in a carafe, a hearty meal (such as Thanksgiving), and a rowdy group of friends. Look for anise, cherry, black pepper, and stones on the nose, with a dense, chewy mouthfeel and notes of briary cassis and black raspberry. This isn't a Beaujolais you'll forget about soon — it may be only twice the price of the Nouveau, but it's easily ten times the wine.
____________________________
Perrachon Moulin-a-Vent "Burdelines" 2014
Ansonia Retail: $30
6+ bottle price : $25/bot


FREE EAST COAST SHIPPING ON ANY 12 BOTTLES