When vines grow old it presents vignerons with a choice. Older vines mean lower yields, which can squeeze a domaine's bottom line. But old vines also produce more concentrated and better quality juice, leading to wines of depth and intensity. We are always pleased to find vignerons who sacrifice quantity for quality and allow their vines to continue into old age.
The Domaine Gautheron in Chablis has kept a small plot of their oldest vines, now over 55 years old. The wine from this plot is a harmonious marriage of finesse and energy. There's the refreshing stony minerality found in the best Chablis, but also an elegant roundness derived from the low-yielding old vines. The result of the combination is superb balance and depth.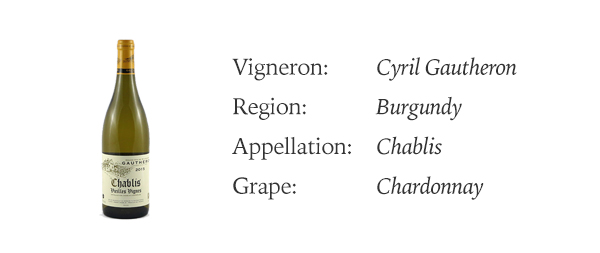 Cyril Gautheron is a rising star here in Chablis. The Gautheron family has made wine in Chablis for 200 years, but Cyril has taken the reins with an unusual passion. Our visits with him regularly run late as he discusses the intricacies of his family's property, and shows us unblended wines from dozens of plots.
Gautheron's 2015 wines were all excellent. In a year with abundant sunshine, Cyril managed to maintain a clean freshness that keeps this wine lively. The nose shows chalk and lemon, with bright, clear notes and the faintest whisper of toast. The mouth is everything you want from Chablis — precise, elegant minerality, combined with pure, ripe Chardonnay fruit.
This wine fits beautifully on a Thanksgiving table — its lively mouthfeel and rich tension will keep your guests palates fresh all the way through pie.
____________________________
Gautheron Chablis Vieilles Vignes 2015
Ansonia Retail: $26
6+ bottle price : $22/bot


FREE EAST COAST SHIPPING ON ANY 12 BOTTLES