We work with a lot of winemakers with low profiles, but Jean-Marc Monnet's might be the lowest. He has no roadsign, no website, and no other American importer. We've gotten lost trying to find his domaine two years in a row. Jean-Marc himself is as humble as his winery is hidden, but the wines themselves are a wholly different story.
Beaujolais has long been known for its unserious wines — over-marketed and under-cared-for. But Monnet's Beaujolais has the complexity of a very good Côte d'Or Bourgogne rouge and the density of a Northern Rhône syrah. And from a rich year like 2015, Monnet's gamays punch far above their weight and price.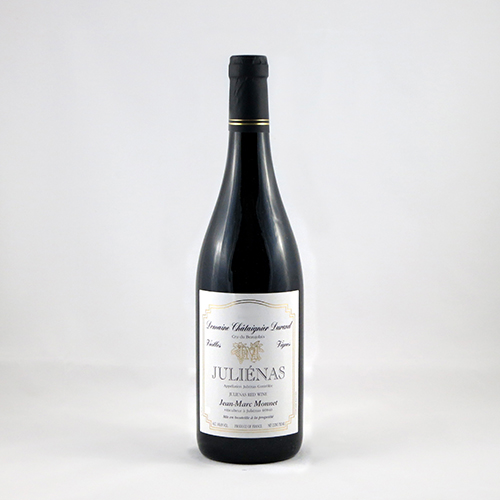 Beaujolais is the perfect Thanksgiving wine — indeed, we have a whole section of our Thanksgiving Guide devoted to the stuff. It's juicy and crisp, with fresh fruit and a crackling mouthfeel. It's lively in the mouth and won't tire your palate over the long meal.
Monnet's old vine Juliénas is like his other wines, only more so. From 50+ year old vines and a ripe vintage, the density is exceptional. The color is inky purple, with a dark nose showing raspberry and pure wild cherry. The mouthfeel is intense and smooth with a long, dense finish of cranberry, minerals and violets. This is delicious, but as Jancis Robinson puts it, "meant to be drunk, not contemplated."
We don't claim to have discovered the perfection of Beaujolais-Thanksgiving pairing. But our advice is this: stay with Beaujolais but skip the Nouveau — a few bucks more gets you rich, dense, honest gamay.
____________________________
Monnet Juliénas Vieilles Vignes 2015
Ansonia Retail: $24
6+ bottle price : $19/bot


FREE EAST COAST SHIPPING ON ANY 12 BOTTLES