The finest Northern Rhône Syrahs are a study in finesse and subtlety. Their brilliance comes from the marriage of a dark, rich southern grape varietal with a cooler northern climate. Particularly in 2015, the wines show an exquisite balance between an inky meatiness and a brisk fruitiness.
We've yet to have a bad 2015 Northern Rhône Syrah, but even in a crowded field, Denis Basset's old-vine Crozes-Hermitage "Fleur Enchanté" is a favorite. The Guide Hachette calls Basset's wines "a model of balance and finesse;" we call them complex and delicious. With winter on the way, this bold, cozy wine will fit perfectly on a frigid evening.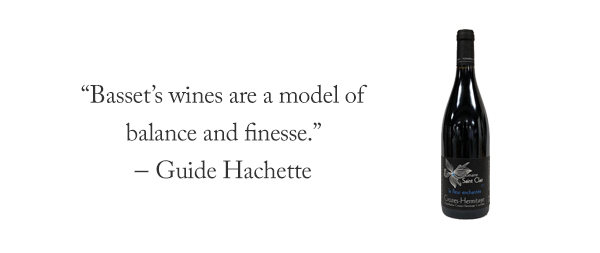 The 2015 Fleur Enchantée shows dark blackberry and cassis fruit in the nose, with violet and cloves alongside. The mouth is remarkably dense and fine, with a balanced mouthfeel and an extremely long finish that shows peppercorn, plum, and wild cherry jam. From nearly 50 year old syrah vines and aged carefully for a year and a half before bottling, this is an extraordinarily mouthfilling Syrah.
It'd be an impressive wine at $40/bot, and no one would be disappointed. At $25, it has to be among the best buys in the lineup. If you're a fan of Northern Rhône syrahs, you already know to expect great things from this wine. If you're new to the region, 2015 is a great place to start.
____________________________
Saint-Clair Crozes-Hermitage "Fleur Enchantée" 2015
Ansonia Retail: $30
6+ bottle price : $25/bot


FREE EAST COAST SHIPPING ON ANY 12 BOTTLES