Michel Gros is as much a part of Vosne-Romanée as its pointed steeple, the ancient vineyards, and the narrow crooked streets. He is a lifelong resident of the town, as were his father and grandfather before him — his mother was even mayor. The Gros family name has been synonymous with Vosne-Romanee for centuries.
Their most famous vineyard is the premier cru monopole "Clos des Réas," the only one in the appellation. It is a magnificent property, stretching over 2 hectares, and turning out wines described by critics as "supremely elegant," "opulent" and "genius." It has long been a favorite of ours, and we recently acquired a few cases of the excellent 2012.
For Burgundian grace and prestige, not much matches this wine.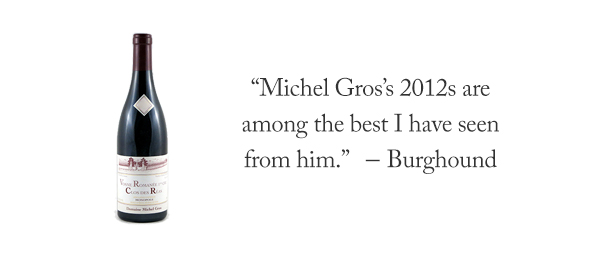 The 2012 vintage was very small in Burgundy. A cold, wet spring led to reduced yields, resulting in very concentrated wines. Wine writers anticipate long lives for these dense wines, but we've found they've already begun to show well. With an hour in a decanter and beside a choice cut of meat, the 2012s just sing these days.
Allen Meadows (Burghound) found the 2012 Réas has "exceptionally good richness…that completely coats the palate." He called it an "opulent effort," predicting it would be "approachable young if desired." And though he noted Michel's usually modesty on the subject of his own wines, Meadows called the 2012s "among the best I have seen from him."
Réas is the wine we get out for special family occasions. It's elegant, luxurious, and perfectly balanced — everything you want from a top red Burgundy. It's not exactly at weeknight pricing, but special moments call for special wines. With the holidays approaching, we're confident you can find an excuse to enjoy this exceptional wine.
____________________________
Michel Gros Vosne-Romanée 1er cru "Clos des Réas" 2012
Ansonia Retail: $150
1+ bottle price : $124/bot


FREE EAST COAST SHIPPING ON ANY 12 BOTTLES