The Burgundies of the Côte d'Or may be Chardonnay's most refined expression, but its purest expression comes from the hillsides of Chablis. With no oak to compete with the fruit, this is Chardonnay showing only its essential elements.
It takes a talented winemaker to craft this unadorned version of the grape, and Romain Collet is just that. He became the principal winemaker at his family's domaine a few years ago, and we (and the international wine press) have noticed an increase in wines that truly delight. "Oaky wines can be good," he likes to say, "but they're not Chablis."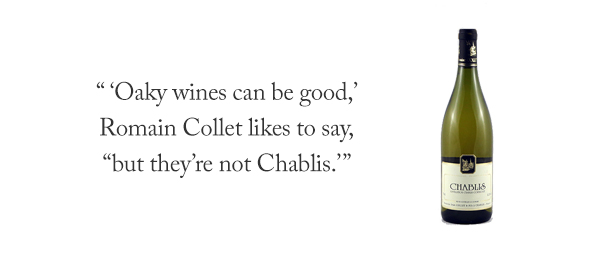 Collet's 2016 crop was 75% below normal, a result of catastrophic frosts and hails. But while there isn't much to go around, the quality of his 2016s is unusually good. His 2016 village level Chablis is easy, uncomplicated wine — bright and crisp, with clean ripe fruit and a smooth mouthfeel. Ripe meyer lemon notes accompany the tense mineral core to produce a beautifully balanced wine, noticeably more complex than most at its level.
Pairing this wine is easy — with no oak this matches up with anything from sushi to roast chicken to goat cheese on crackers. If it were summer we'd point you towards raw oysters. But with winter here and the holidays around the corner, try the charmingly out of date Oysters Rockefeller — a decadent December treat.
____________________________
Collet Chablis 2016
Ansonia Retail: $30
6+ bottle price : $25/bot


FREE EAST COAST SHIPPING ON ANY 12 BOTTLES