Sometimes the most impressive wines come from the most unassuming of winemakers. We see our fair share of egocentric vignerons, but often the most talented winemakers are the quietest.
So it is with Christophe Bonnefond. In good years and bad, rain or shine, he greets us with a faint smile and few words. His emails usually contain a phrase or two — if we're lucky, a whole sentence. But his wines are the work of a master; and they're anything but faint.
Bonnefond's wines are pure Syrah, grown on the steep slopes of Côte Rôtie. Together with his brother Patrick, Christophe produces exceptional reds from the Northern Rhône, the region where Syrah finds its most noble expression. The Bonnefonds work some of the more famous plots in the region, but also produce a regular cuvée that requires much less time and is far more affordable: the Colline de Couzou.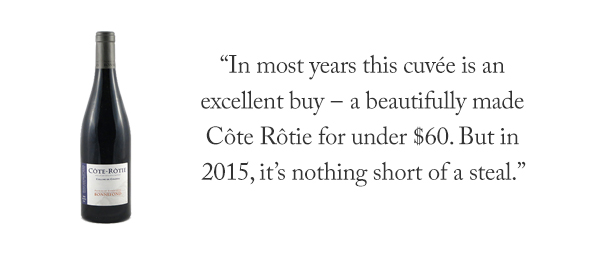 In most years this cuvée is an excellent buy — a beautifully made Côte Rôtie for under $60. But in 2015, it's nothing short of a steal. In a vintage where Northern Rhône reds have been called "the best in 55 years," the Colline de Couzou is an exceptional wine and a great value.
The nose shows black pepper, olive, and blackberry; the mouth is very dense, elegantly textured, and extremely long, with notes of anise, plum jam, and cloves. Josh Raynolds of Vinous awarded 91-93 points, finding "silky tannins" and "excellent clarity."
Consider this for Christmas dinner this year — in a decanter it would be perfect for a standing rib roast or other grand dish. And if you have room in your cellar, it should be even better for Christmas in 2020.
____________________________
Bonnefond Côte Rôtie "Colline de Couzou" 2015
Ansonia Retail: $70
3+ bottle price : $58/bot


FREE EAST COAST SHIPPING ON ANY 12 BOTTLES