Wine is only one expression of France's terroir. In our travels around the country we love sampling the others — from Belon oysters and real Epoisses to pâté de campagne and fleur de sel. One of our favorite such products is crème de cassis, a blackcurrant liqueur originally from Burgundy.
Most of the cassis available in the US is a far cry from the real stuff, and for years we looked for a real, artisan source to import. Finally last year, we got a tip about a small farm in the Hautes-Côtes de Nuits that has produced cassis for 400 years. We visited the Ferme Fruirouge and sampled their small-batch, hand made crèmes. Fruirouge exceeded our lofty expectations by a mile — it's simply the finest crème de cassis we've ever tasted.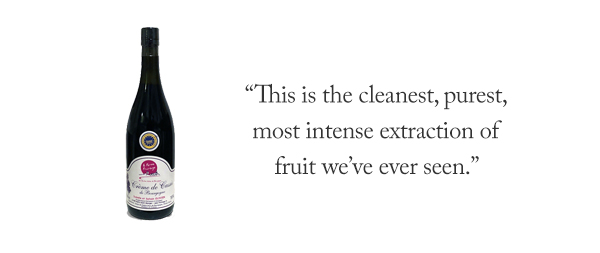 The Olivier family has run the Ferme Fruirouge for nine generations. Today they raise their fruits organically and biodynamically, and their crèmes are the cleanest, purest, most intense extraction of fruit we've ever seen. Their Cassis is our favorite, a smooth, concentrated elixir (15% alcohol) packed with a startlingly intense taste.
The French most often use these crèmes for a kir or kir royale — a glass of dry white wine (usually aligoté) or sparkling wine with a splash of crème. It's a refreshing, delightful cocktail that's distinct, elegant, and festive. Those with a knack for cocktails will also find plenty of uses. And for those early rising readers, it's a delicious addition to crèpes or waffles.
This is the perfect gift for the foodie or craft-food enthusiast in your family: a handmade product of the highest order, and one they certainly don't already have. Or if you'd rather not give it away, serve it at a New Year's party next week and the bubbles will be even more fun than usual.
Orders placed by midnight tonight will arrive at addresses within two days of Boston on Saturday 12/23. Free East Coast shipping on one bottle.
____________________________
Fruirouge Crème de Cassis (750ml)
Ansonia Retail: $70
1+ bottle price : $58/bot


FREE EAST COAST SHIPPING