Pascal Bardoux is a quiet, pensive winemaker. In Champagne, land of glitzy tasting rooms and glossy brochures, his humble demeanor and unassuming style distinguish him. Our tastings together are long and measured — each wine has time to develop in the glass, and a discussion follows involving precise references to rare fruits and other scents.
And Bardoux's wines reward contemplation — they're exceptionally complex and fine. The subtleties of Champagne can fall victim to its glamor and festive uses, but given time and attention, they can be as elegant as the finest wines of Burgundy and Bordeaux.
Bardoux lost 45% of his crop in 2010 to weather conditions, but the quality of what remained (a mere 300 cases worth) was exceptional. We're excited today to release Bardoux's 2010 Vintage Champagne — it's the finest wine we've had from him, and, he believes, among the best he's ever made.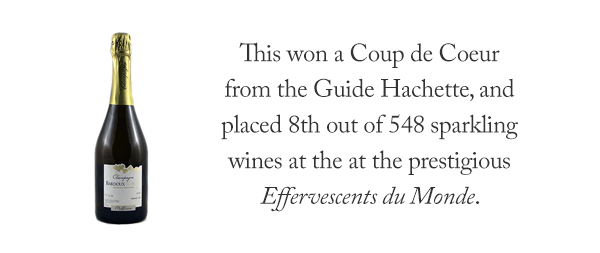 Bardoux's 2010 Champagne Millesimé is his first 100% blanc de blancs. It's 100% chardonnay, and comes with an impressive collection of accolades. The Guide Hachette awarded a Coup de Coeur, finding it "rich, silky, and fresh." It also won gold at the prestigious Effervescents du Monde competition, where it placed 8th in a field of 548 sparkling wines.
More than any other Bardoux wine, this cuvée distinguishes Champagne as head and shoulders above other sparkling wine. The nose shows anise, pomegranate and cream, with a subtle toastiness that's both charming and serious. The mouth is smooth and long, with very fine bubbles, and notes of quince, grape skins, peach and plums.
This would elevate any event, from a grand Christmas dinner to a classy New Year's party. Serve it with something creamy — a beurre blanc or veal medallions in cream — and you'll get a glimpse of heaven.
____________________________
Bardoux Champange Millésimé 2010
Ansonia Retail: $84
3+ bottle price : $75/bot


FREE EAST COAST SHIPPING ON ANY 12 BOTTLES