The Holidays are a time to gather family and friends, reflect on the year gone by, and maybe open that special bottle you've been saving. This week we've highlighted some ideas for that celebratory bottle, from Vosne-Romanée to Grand Crus Burgundies to samplers in our 2017 Gift Guide.
But it's also a season for holiday parties, where the need is more for hearty quantity than for perfectly-aged trophy bottles. For that need, we submit a recent favorite in the "everyday red" category: Bagatelle's Colline d'Assignan 2015. It's a smooth, straightforward, well balanced wine — one you don't have to think hard about to enjoy.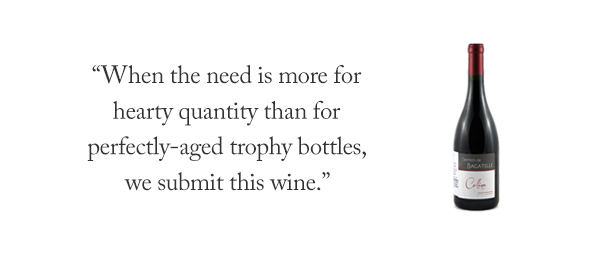 Grown in Southern France's Languedoc region, Bagatelle's reds avoid that region's trap of flatness and over-ripeness. By picking early enough, the winemakers here retain good structure and balancing acidity. Most of the domaine's other wines are majority Sryah, and this one is Grenache-dominant for a redder, smoother feel.
At 13.5% alcohol, this is a perfect holiday cocktail party wine — it's dense enough to stand up to cheese and crackers, but well balanced so as not to exhaust your guests' palates or tolerances. Look for dark red berry fruit, a softened but lively mouthfeel, and a smooth, dry finish.
The Holidays are a great excuse to open that special bottle you've been saving. But when that thirsty nephew comes to visit, you'll want this to help defend your cellar.
____________________________
Bagatelle St-Chinian "Colline" 2015
Ansonia Retail: $20
6+ bottle price : $16/bot


FREE EAST COAST SHIPPING ON ANY 12 BOTTLES