We often preach the value of well-aged wines. Under the right conditions, time has a magical effect on a bottle of wine. Usually it's red wines (or sometimes whites) that are ageworthy, but we often forget the third category: Champagne.
Champagne evolves in two stages. The first is pre-disgorgement, when fermented wine rests in the bottle under a tight seal and the lees add complexity and richness. The second happens post-disgorgement: the lees are removed, a cork is added, and the wine begins to pick up secondary notes like caramel and nuts.
2002 Champagne would be exciting in any format. Master of Wine Jancis Robinson called it "a magnificent year in Champagne," and now 15 years on, considerable aging has already occured. But this particular Champagne, resting on the lees in perfect conditions for 15 years, and disgorged earlier this year, is even more special — it's in magnums.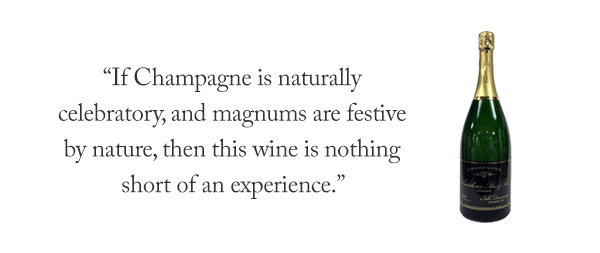 Pascal Bardoux is our Grower Champagne producer in Montagne-de-Reims. His wines are exceptionally fine and complex, with the recent 2010 vintage winning many awards. If Champagne is naturally celebratory, and magnums are festive by nature, then this wine is nothing short of an experience.
We were amazed at the fresh and clean mouthfeel of the magnum of 2002 Pascal opened for us this spring. Over the last 15 years the wine has gained an extraordinary complexity, with subtle notes of dried fruits, apple pie, fig, oats, and dried roses. These magnums offer a chance for you to set your own course — its first life is complete; the second is up to you. It'll be delicious by Christmas, and even more in five.
Champagne is naturally festive. The pop of the cork, the sparkle in the glass, the lively texture on the palate — centuries of marketing have done their trick, and the wine is forever linked with glamor and occasion. If you've got a holiday party coming up, or just couple close friends for New Year's Eve dinner, consider one of these — your guests won't soon forget it.
____________________________
Bardoux Champagne 2002 (1.5L)
Ansonia Retail: $240
magnum price : $195/bot


FREE EAST COAST SHIPPING ON ANY 12 BOTTLES