Prices in Bordeaux have never been higher. Due to increasing global demand, particularly from Asia, it is harder and harder to find values in the region. In search of high quality wines that also offer good value, we often consider second wines of famous vineyards or secondary properties from famous winemakers.
Christian Dauriac, for example, owns the Chateaux Destieux and Montlisse in St. Emilion. Destieux, a Grand Cru Classé, is his flagship and deserves the praise it receives. But the Grand Cru Chateau Montlisse is an exceptional bargain that we have enjoyed for years. It's the product of an accomplished winemaker with excellent terroir, but at a far more reasonable price.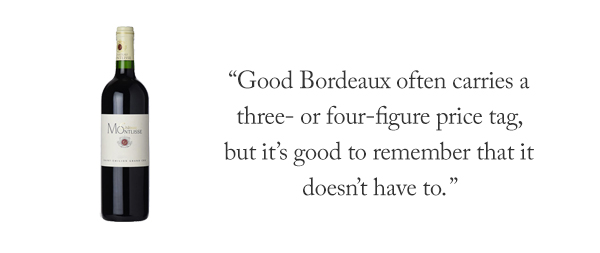 We've just received the 2014 Château Montlisse, and it's a perfect wine for the frigid weather of late. Made from 85% Merlot and 15% Cabernet Franc, it's a rich, velvety blend with a classic combination of dark fruit and spice. Even with only a few years in the bottle it has already smoothed out into a dense, beautifully textured, classic right bank Bordeaux. Look for notes of plums and toast with cassis and dark chocolate in the mouth.
It's unusual to find fine Saint Emilion at this price. But to find it with perfect provenance — (this wine was in Montlisse's cellar until last month) — is even rarer. Good Bordeaux often carries a three- or four-figure price tag, but it's good to remember that it doesn't have to. Serve this with good steak or veal, or something roasted on a chilly Sunday afternoon.
____________________________
Montlisse St-Emilion Grand Cru 2014
Ansonia Retail: $40
6+ bottle price : $35/bot


FREE EAST COAST SHIPPING ON ANY 12 BOTTLES