Weather plays a crucial role in the character of a wine. Recent years in Burgundy have provided no shortage of challenges — from hail to frost to mildew and more. Luckily there are also some bright spots — the 2015 vintage provided both quantity and quality. Nearly every wine drinks better than its label: simple table wines drink like village-level Burgundies, and village wines resemble premier crus.
We've long found St-Aubin a source for exceptional value in white Burgundy. Indeed Jancis Robinson recently wrote that St-Aubin "should now be regarded as virtually [the] equal" of its more famous neighbors Chassagne-Montrachet and Puligny Montrachet. This statement particularly rings true in a year like 2015.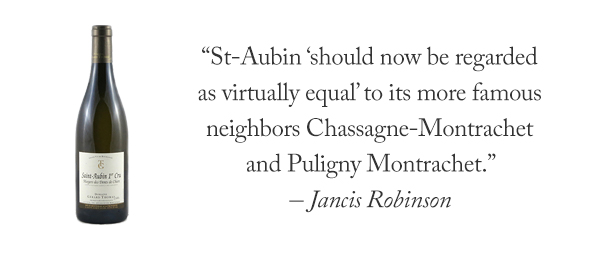 Though many wines in St-Aubin punch above their weight, few are more impressive than the 1er cru St. Aubin from Gérard Thomas. This wine comes from "Murgers des Dents de Chien," a plot of vines high on a ridge from which one can see north and south along the golden slope.
The 2015 "Murgers" is refined and elegant. The fruits are ripe and rich, with mouthfilling intensity and subtle use of oak. The nose shows lemons and toast, with almonds and wild honey in the mouth. Without the label in front of you it could easily be mistaken for Puligny or Chassagne.
Pair this with any fish or chicken dish — Julia Child's chicken with mushrooms and cream is a favorite chez nous. But whatever the occasion, when white Burgundy is called for this is a delicious and affordable example.
____________________________
Thomas St-Aubin 1er cru "Murgers des Dents de Chien" 2014
Ansonia Retail: $40
6+ bottle price : $34/bot


FREE EAST COAST SHIPPING ON ANY 12 BOTTLES