It's difficult to find new sources in Burgundy. Supply is very limited and most producers work with other US importers. Finding high quality additions to our portfolio involves lots of research and tasting, good timing, and a healthy dose of luck.
When we first read about the Domaine des Varoilles, we were skeptical. Their past was storied, with vines first planted in the 12th century (not a typo). Their properties are remarkable — no fewer than four monopoles in Gevrey-Chambertin, two at the premier cru level. They boast 90+ scores from Burghound, high praise from Jancis Robinson, and a raft of Coup de Coeur awards from the Guide Hachette.
Such expectations set an awfully high bar, but in fact the wines at Varoilles exceeded their lofty billing. It took a while for them to make their way across the Atlantic this fall, but now that they're here we can confirm they are worth the wait. Today we're excited to release their signature wine, the Gevrey-Chambertin 1er cru "Clos des Varoilles" from the excellent 2012 vintage.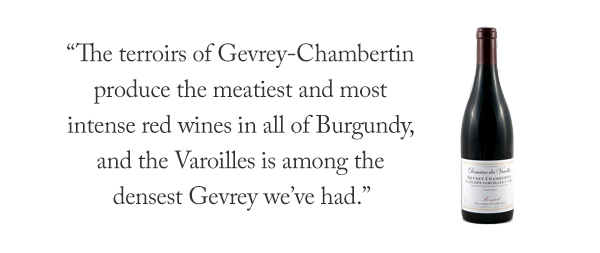 The Domaine des Varoilles is named for the Clos des Varoilles, a huge 6-hectare premier cru monopole located among the best premier crus in Gevrey-Chambertin. Historical documents reference its initial planting in the 12th century, and it's from this vineyard that today's wine comes.
The terroirs of Gevrey-Chambertin produce the meatiest and most intense red wines in all of Burgundy, and the Varoilles is among the densest Gevrey we've had. The 2012 Clos des Varoilles is exceptional, with inky notes of plum, earth, cassis, and a hint of sauvage. Allen Meadows (Burghound) found "excellent richness," "intense and overtly powerful," and a "tautly muscular finish," and awarded 92 points.
A rich style, a meaty appellation, and a low yielding vintage have all combined to make a wine that should age with grace. But the bottle we decanted last week was startlingly good — if you've got beef on the menu and don't have a Christmas bottle picked out, our East Coast order deadline is Wednesday…
____________________________
Varoilles Gevrey-Chambertin 1er "Clos des Varoilles" 2012
Ansonia Retail: $102
2+ bottle price : $88/bot


FREE EAST COAST SHIPPING ON ANY 12 BOTTLES