"If gold were a flavor," Matt Kramer once wrote, "it would taste like Meursault." Though it has no Grand Cru, the wines of Meursault are some of the most sought after in the world. For most, the name recalls white Burgundies of decadence, opulence, and style.
Stretching across nearly 1000 acres, Meursault also spans a wide range of terroir, producing taught, elegant wines (like Narvaux) high on the slope, and softer, richer wines nearer the town. Today's 2015 Meursault from the Domaine Boyer-Martenot is from the lower slopes, and draws on 90+ year old vines for extra concentration and depth.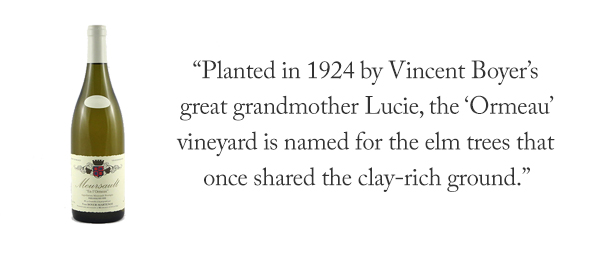 Planted in 1924 by Vincent Boyer's great grandmother Lucie, the "Ormeau" vineyard is named for the elm trees that once shared the clay-rich ground. This is classic, mouthfilling Meursault – showing peaches and citrus, with licorice and a faint nuttiness in the nose. All of Boyer's wines are rich, elegant, and complex, but "Ormeau" is among the most classically Meursault in the lineup.
Boyer's suggests any fish in a lemon butter sauce, and we heartily agree with his suggestion. This is a concentrated, wintertime white Burgundy, perfect for a chilly afternoon, a crackling fireplace, and a glittering Christmas tree.
____________________________
Boyer-Martenot Meursault "Ormeau" 2015
Ansonia Retail: $62
3+ bottle price : $54/bot


FREE EAST COAST SHIPPING ON ANY 12 BOTTLES