The wines of Meursault may be popular today, but it's hard to describe them as a passing fad. The monks of Citeaux first planted vines there in 1098, and over the last nine centuries the village has proudly earned its glowing reputation.Though it has no Grand Cru vineyards, Meursault's wines are among the most sought after in the world.
We began buying from Vincent Boyer more than a decade ago, and since then the international wine press has widely acclaimed him as a rising star. This year we allocated some of his Meursault "Narvaux," a village level white considered among Meursault's finest. Boyer coaxes his 70 year old Chardonnay vines into perfect expressions of this extraordinary terroir.
With old vines, a master winemaker, and exceptional terroir, this is not a wine to miss.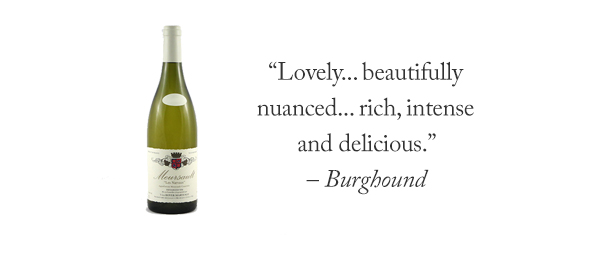 Meursault is about decadence, opulence, and style, and Narvaux embodies all of these. The vineyard perches just above Meursault's premier crus and borders the famous Genevrières. Boyer's 2015 "Narvaux" is a classic, with wonderful mouthfilling intensity drawn from the richness and density of the fruit. The nose is lovely and generous, showing white flowers, hazelnut, and apricot. The mouth is full but tense, showing pear and white flowers, with a long, vibrant finish.
Wine critic Allen Meadows (Burghound) called the 2015 "lovely," "elegant," and "beautifully nuanced" in the nose, and "rich, intense and delicious" in the mouth. In short, this is golden, classic, mouthfilling white Burgundy from a master winemaker — serve it on a chilly wintery evening and you might not even want to open a red.
____________________________
Boyer-Martenot Meursault "Narvaux" 2015
Ansonia Retail: $62
3+ bottle price : $54/bot


FREE EAST COAST SHIPPING ON ANY 12 BOTTLES