Wine classification changes dramatically from one region to another. The Old World tends to identify wines by place, while the New World tends to use grape varietal. It seems a minor shift, but it has important implications for the way people perceive wines.
An example: call a wine Merlot and noses turn up (thanks, Sideways). Call the wine Pomerol, and suddenly you have our attention. In fact, Pomerol is proof that great wine can be made from Merlot. In his landmark World Atlas of Wine, Hugh Johnson calls Pomerol "the gentlest, richest, most velvety and instantly appealing form of red Bordeaux." Today we're suggesting the 2011 Pomerol from the Chateau la Clemence, a wine we're sure would convert anyone to the grape.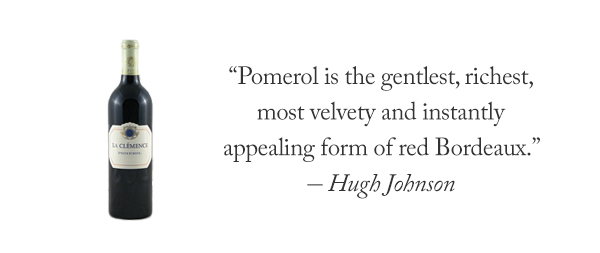 Clemence is classic Pomerol — bold, rich, and smooth. The average vines in the tiny 7 acre vineyard are over 50 years old, and winemaker Christian Dauriac keeps yields low, often near 20 hectolitres per hectare. The result is a mouthfilling wine that ages beautifully. Jancis Robinson called it "appetizing," "polished and intense."
Now 6 years on from harvest, this Pomerol is a delight. It shows dark, stewed cherries, licorice, and toast in the nose; the mouth is long and rich, with jammy plum fruit, dark chocolate, and tobacco. It's a perfect rich red for a frigid wintery evening. Pair it with a peppercorn crusted steak, and you won't care what they call it.
____________________________
Chateau la Clemence Pomerol 2011
Ansonia Retail: $85
3+ bottle price : $68/bot


FREE EAST COAST SHIPPING ON ANY 12 BOTTLES