We often recommend wines intended for a specific time or place. A carefully aged Burgundy for a Christmas roast; a stony Chablis for a plate of summer oysters — a precise wine pairing for a dish or setting can elevate both.
But wine should also be a reliable part of an ordinary dinner. We like to keep such "house wines" around — versatile, crowd pleasing bottles you can reach for without much thought. White Burgundies are usually our go-to for whites; and last week's Côtes du Rhône is an excellent everyday red.
But for some geographic diversity, we're hard-pressed to find someone that doesn't enjoy the Fattoria Poggerino's simplest wine: Il Labirinto.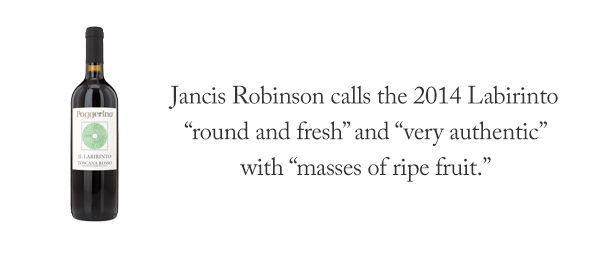 Poggerino splits the Chianti Classico vines into older and younger parcels, bottling the former as "Chianti Classico" and the latter as "Il Labirinto". The 2014 Classico, which will arrive in a month or so, is excellent. But Labirinto is vat raised and released earlier, and the 2014 is in stock and delicious. Labirinto's "young" vines are now 35-years old, making this a Classico-quality wine that is an astounding bargain for the price.
The Labirinto 2014's nose is very ripe and juicy, with plum and sweet cherry notes. The mouth is earthy, and vibrant, with sturdy tannins sanded down after a few years in the bottle, forming a smooth patina of fruit jam. Jancis Robinson calls the 2014 "round and fresh" and "very authentic" with "masses of ripe fruit."
This is lively and pleasantly drinkable on its own, but like most wines, it's best enjoyed with the other fruits of its home terroir. Try a homemade pizza (good recipe for the dough here) or a pasta with a tomato based sauce.
____________________________
Poggerino Labirinto 2014
Ansonia Retail: $22
6+ bottle price : $18/bot


FREE EAST COAST SHIPPING ON ANY 12 BOTTLES