The 2015 red Burgundies are nothing short of a sensation. After months of hype and a frenzy of enthusiasm upon release, they've lived up to nearly all of their acclaim. With sturdy tannins suggesting long and happy lives, the wines also offer near-term hedonistic delight — the best are juicy, lively, and, as the French say, gouleyant (gulpable).
No domaine's wines better capture the tension between ageworthiness and drinkability than those of Roger Belland. The house style is always fruit forward — ripe, punchy, juicy mouthfeels are consistent from one year to another. But even for Belland, their 2015s offer unusually pleasant early drinking.
In our fast-paced world, cellaring wine has become increasingly rare. But with Belland's wines, there's no wrong answer — they are delicious now, and will be even more so in 5 years.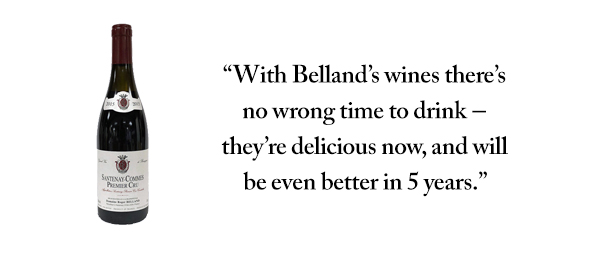 Master of Wine Clive Coates called Roger Belland "one of the best sources in the village" of Santenay. Though it's often an afterthought on Côte d'Or maps, Belland's wines are proof that Santenay can be classic, majestic red Burgundy.
Belland's finest premier cru Santenay is from the "la Comme" vineyard, just on the northern border with Chassagne-Montrachet. This is Santenay at its most elegant, combining the silky precision of a Volnay with the vibrant character of red Chassagne — think minerals, dried cherries, plum, and herbs. Burghound awarded 91 points, finding it "elegant" and "harmonious," with "pretty floral nuance," and "delicious, intense and vibrant flavors."
Belland's wines are so drinkable from the start that they're hard to age — our last bottle, opened 4-5 years after harvest, is often the best of the batch. If you've got the cellar space, put down half a case and drink the other six this year. Life is short, after all.
____________________________
Belland Santenay 1er cru "la Comme" 2015
Ansonia Retail: $50
3+ bottle price : $42/bot


FREE EAST COAST SHIPPING ON ANY 12 BOTTLES