Named for an 8th century Breton hermit monk, the medieval town of St-Emilion has long been a center for winemaking. Viticulture there dates to at least 275 AD, when Roman soldiers cleared the local forest and replaced it with vines.
Today Saint-Emilion and its neighbor Pomerol dominate the right bank of Bordeaux's bifurcated winegrowing region. The wines here are Merlot-based, often blended with Cabernet Franc. The pace and scale of the right bank resembles Burgundy more than the large producers of Bordeaux's left bank, and some generous Saint-Emilion makes a great addition to our Burgundy-dominated cellars.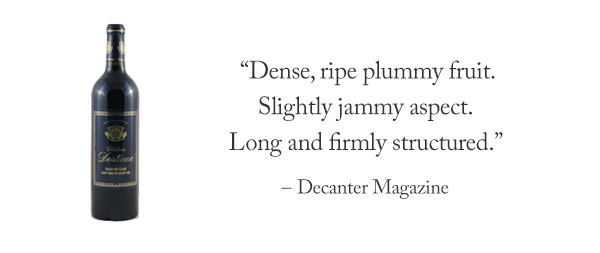 For many years now our source for classic Saint-Emilion has been the Chateaux Destieux and Montlisse, the projects of biopharma-exec-turned-winemaker Christian Dauriac. Montlisse, a Grand Cru, is a delicious wine at an approachable price. (See Montlisse 2014.) But for special occasions, the Grand Cru Classé Destieux is a noticeable and impressive step up.
The 2014 Destieux is bold and rich — it's not a wine you forget about while drinking. Decanter Magazine found "Dense, ripe plummy fruit. Slightly jammy aspect. Long and firmly structured." We found notes of plums, cedar, licorice and leather. Decant an hour or so before serving, and pair it with a rich stew or a fine cut of beef. Subtle this is not; delicious it is.
____________________________
Destieux Saint-Emilion Grand Cru Classé 2014
Ansonia Retail: $72
2+ bottle price : $64/bot


FREE EAST COAST SHIPPING ON ANY 12 BOTTLES