Most things in Burgundy are old. Ancient walls and Roman paths wind across the landscape of vines; houses built a hundred years ago are considered new. And the people of the region have practiced viticulture here since long before it was called Burgundy.
Even by Burgundian standards, the Domaine des Varoilles is old. The domaine's vineyards date to the 1100s, with further mentions in local records from 1272, 1319, and 1329. It's under recent ownership — that of Swiss national Gilbert Hammel since 1990 — that the domaine's star has really risen.
The domaine's vines are nearly all in Gevrey-Chambertin, a town known for the densest, meatiest wines in Burgundy. And the Varoilles style features relatively late harvests, ripe fruits, and plenty of extraction. The resulting wines are rich, seductive, and awfully easy to enjoy.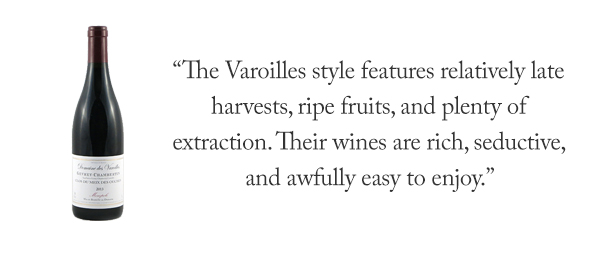 Last month we wrote about Varoilles Premier Cru Gevrey-Chambertin "Clos des Varoilles" from 2012 — an intense, meaty Gevrey-Chambertin with excellent aging potential. Today's wine is a 2014 from their village level vineyard monopole "Clos du Meix des Ouches." The walls of the clos and its clay-rich soils combine to make an unusually rich village level-wine.
Burghound loved the domaine's 2014s, calling this cuvée "lavishly rich," and "velvety," with "excellent volume" and predicting it would "drink well young." Today the 2014 Gevrey has an exceptional nose — there's mocha, raspberry, gingerbread, and cinnamon. The mouth is pleasant and dark, with clean tannins that soften after an hour or so in a glass or decanter.
With their centuries of history Varoilles can hardly be called a discovery. But it's wines like this that make us excited to have them in our portfolio.
____________________________
Varoilles Gevrey-Chambertin "Clos du Meix des Ouches" 2014
Ansonia Retail: $72
2+ bottle price : $64/bot


FREE EAST COAST SHIPPING ON ANY 12 BOTTLES