In Burgundy, nearly all white wines are pure Chardonnay. The primary exception to the rule is Aligoté, a less prestigious varietal that nonetheless accounts for over 10% of white vines in Burgundy. It's a traditional Burgundian grape that makes simple, refreshing wines meant for enjoying, not contemplating.
If grown in a poor location, Aligoté can turn out thin wines with lots of acidity and little else. But in the right soils and in the hands of capable winemakers, the result can be really quite interesting. Many readers have recently enjoyed the Aligoté from Boyer-Martenot in Meursault — so much, in fact, that we're out. (See January Futures for the Boyer's 2016 Aligoté.) But in the meantime we're excited to introduce a second — the 2015 Aligoté from the Domaine Ravaut.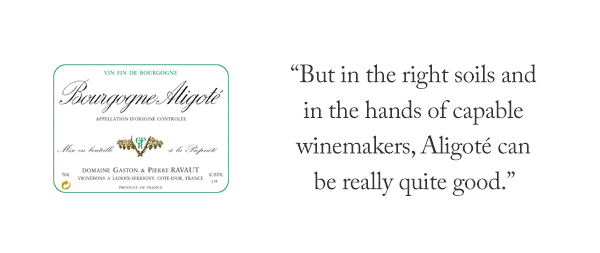 The Ravaut's Aligoté succeeds for three reasons. First: location. Grown just north of the famous Hill of Corton, their plot boasts well situated soils rich with clay and limestone. Second: malolactic fermentation. This secondary fermentation helps round out the sometimes sharp edges of the grape. Third: lees contact. Ravaut's Aligoté spends a year on the lees before bottling, adding depth and complexity.
Ravaut's 2015 Aligoté closely resembles a Chardonnay in the nose — think green apple, lemon peel, honey, and grass. The mouth is bright and crisp, like a Chardonnay from an energetic year. Look for notes of grapefruit, lime, and chalk in the mouth. It's a great candidate for the traditional pairing with Crème de Cassis (called a Kir), but the liqueur isn't a must for this wine.
Don't get us wrong — Corton-Charlemagne Grand Cru this is not. It's not even Ravaut's Ladoix blanc. But for a refreshing, inexpensive, well-made wine you can reach for at any time, consider the new Aligoté.
____________________________
Ravaut Aligoté 2015
Ansonia Retail: $24
6+ bottle price : $19/bot


FREE EAST COAST SHIPPING ON ANY 12 BOTTLES