Côtes-du-Rhônes are a dime a dozen these days. From bistro chalkboards in Paris to Whole Foods to the drugstore checkout counter, it's one of the most recognizable brands in the wine world. And as you might expect, not all Côtes-du-Rhônes are created equal.
Among our very favorites is the Domaine Malmont's version from Séguret. Malmont's Côtes-du-Rhône is unique and delicious — richer and far more interesting than the vast majority of other bottles in its category. It owes its distinctiveness to an unusually high percentage of syrah (60%), which contributes dark berry and black pepper notes, and keeps the wine lively and fresh.
Where many Côtes du Rhônes are flat and full of overripe fruit, Malmont's is cool and crisp, with pleasant tannins and a long, balanced finish. It's a few bucks more than the mass-market version, but the quality is easily twice as good.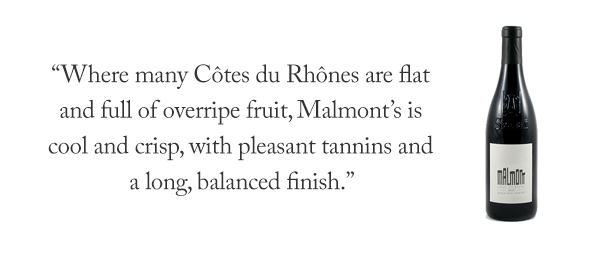 Malmont is the project of Nicolas Haeni, a young Swiss winemaker who founded the domaine nearly a decade ago. His grapes grow on terraced vineyards in the hills above Séguret, and his wines already have wide acclaim from the international wine press. The his 2016 Côtes du Rhône is excellent — Haeni calls it a "baby Séguret," referring to its similarity to his fancier cuvée.
Though it's not raised in oak, there's a pleasant note of toastiness in this wine. Look for notes of plum jam, lavender and thyme, presented with a round but lively mouthfeel. The ubiquity of Côtes du Rhône means it's also a crowd pleaser, particularly on a snowy evening in January. This develops nicely over an hour in the glass, and even stretches nicely from one day to the next.
Côtes du Rhônes aren't meant to be overthought, but this one provides far more complexity than the usual.
____________________________
Malmont Côtes du Rhône 2016
Ansonia Retail: $28
6+ bottle price : $24/bot


FREE EAST COAST SHIPPING ON ANY 12 BOTTLES