As frigid air welcomes us into 2018, we find ourselves reaching for something rich and smooth to fill our wine glasses. In much of the world, a "rich" wine comes with a heavy dose of alcohol and little character. We prefer something with a bit more balance — dense and mouthfilling, but with carefully ripened fruit and modest alcohol.
For many this brings Châteauneuf-du-Pape to mind, and we too love wine from that storied appellation. But when the need is for something perhaps a bit less exalted, Gigondas provides a more-than-worthy alternative.
The best Gigondas shares many of the same rich, dark qualities that draw collectors to its illustrious neighbor, but the former offers with a far friendlier price tag. Indeed, today's wine comes in well under $30, and we've yet to meet someone who doesn't enjoy it.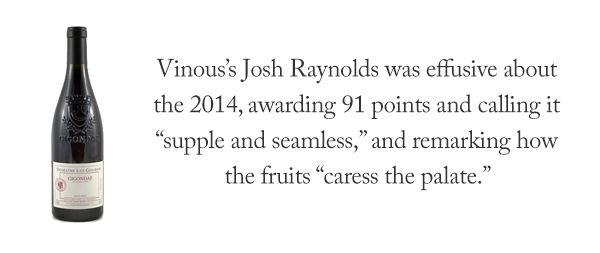 For many years our pick from Gigondas (as well as Robert Parker's and Jancis Robinson's) has been the Domaine les Goubert. The always-excellent wines are even more refined since the family's daughter Florence took over the winemaking a few years ago. Their 2014 Gigondas is as good as any vintage in recent memory.
Vinous's Josh Raynolds was effusive about the 2014, awarding 91 points and calling it "supple and seamless," and remarking how the fruits "caress the palate." His comment about the wine's weight — "concentrated but lively as well" — is particularly perceptive. We found dense, silky notes of plum, lavender, and dried raspberries. The mouth is clean and smooth, managing somehow to achieve richness and lift at the same time.
Frightful though the weather may be, this should keep you cozy and warm. Pair it with beef stew or lamb, and you'll forget even to check the thermometer.
____________________________
Goubert Gigondas 2014
Ansonia Retail: $30
6+ bottle price : $25/bot


FREE EAST COAST SHIPPING ON ANY 12 BOTTLES