The Jura region has an untamed feel — sauvage, the French would say. The craggy landscapes, meandering rivers, and ancient stone towns make it hard to say whether it's the 21st century or the 11th. It's charming, in an undiscovered, unpolished sort of way.
Jura wines are a bit untamed as well. The region is most famous for its idiosyncratic "Vin Jaune," a style of white wine that's intentionally oxidized during its élevage. The result is a bit like a fino sherry, but with additional exotic notes. It's one of the wine world's iconic styles — a bit harder to find today than it used to be, but no less delicious.
The Domaine Ligier is a small family domaine in Arbois, the Jura's principal town. Ligier makes traditional Jura wines — his unusual and delicious reds made from Trousseau and Poulsard have become popular among our readers. But today we're at last releasing their traditional style of white made sous voile ("under the veil").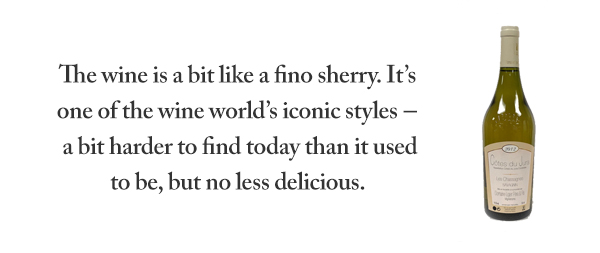 Vin Jaune must age for six years below the veil of yeast, and to the uninitiated its flavors can be very unusual. To ease our readers into the style we decided to start with Ligier's 2012 Savagnin — it's aged only three years in barrel, and shows slightly less intense flavors.
And what are these unusual flavors? If you're used to regularly made wine, they can be difficult to describe — we most find ourselves jotting notes like walnuts, curry, coffee, caramel and toast in the nose, with citrus zest, white pepper, and butter in the mouth. Fino sherry may come the closest.
This is a unique style wine, and certainly isn't to everyone's taste. But if you're at all interested (or if you know these sous voile wines already) we strongly recommend Ligier's 2012 Savignin. It pairs beautifully with charcuterie, crusty bread, and cheese, but its most perfect pairing is with a cheese fondue. Serve this Savignin with aged comté (melted or not), and you might feel a bit untamed yourself.
____________________________
Ligier Savagnin 2012
Ansonia Retail: $34
3+ bottle price : $29/bot


FREE EAST COAST SHIPPING ON ANY 12 BOTTLES