Much has been written about the 2015 vintage in Burgundy, one of the best in a generation. But the vintage also brought impressive wines from elsewhere in France. In particular, the syrah-based wines of the Northern Rhône had a banner year in 2015. Master of Wine Jancis Robinson writes she considers them them "the best in 55 years."
We don't open 1962 Hermitage very often, so we'll have to take her word for it. But we can say that they're extraordinary wines — inky, dark, and mouthfilling but with exceptional balance and refined tannins. If you've never gotten into the wines of the Northern Rhône, now's a perfect time to try. And if you're already a fan, you'll be hard pressed to find a better vintage in your cellar.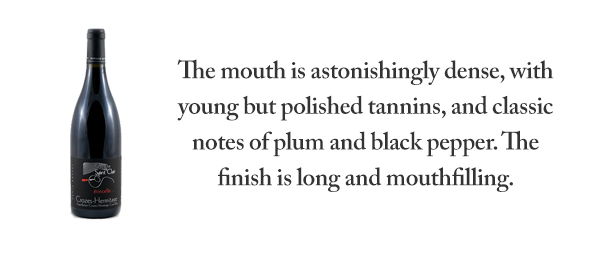 The Northern Rhone is a geographic and stylistic halfway point between Burgundy and the South. The reds of the region combine Burgundy's tradition of elegant, unblended wines with the South's darker, richer grape varietals. The result is a marriage of Northern refinement and sun-baked Southern richness.
Denis Basset is a young winemaker who is passionate and very talented — the latest issue of the Guide Hachette featured two of his four wines, an impressive feat for a winemaker whose first vintage was only five years ago. His 2015 Crozes-Hermitage is a triumph — impossibly intense and concentrated, but at 13.5% alcohol a balanced and refreshing glass as well.
This wine gets better every time we open it. The color is a inky black-purple, with a savory nose showing cloves, blackberries and violets. The mouth is astonishingly dense, with young but polished tannins, and classic notes of plum and black pepper. The finish is long and mouthfilling. We might not see another vintage like this until 2072.
____________________________
Saint-Clair Crozes-Hermitage "Etincelle" 2015
Ansonia Retail: $26
6+ bottle price : $22/bot


FREE EAST COAST SHIPPING ON ANY 12 BOTTLES