Jacqueline André is unusually passionate about her vines. She refers to one plot of grenache planted in 1877 as her grandes dames; they were a gift from her grandfather, and today she treats them with extreme care and affection. The ancient rows are hardly straight, but the fruit they produce is of the highest quality,
The André domaine stopped using chemicals to treat their vines in 1963, and became the region's first certified organic domaine in 1980. "If all we eat is fast food," she explained during our visit a few months ago, "our bodies don't do so well. It's the same with vines — the better care they're given, the longer they live."
It's a commonplace these days to say that the wine is made in the vineyard rather than the winery, but at the Domaine André it is the focus of every day's work.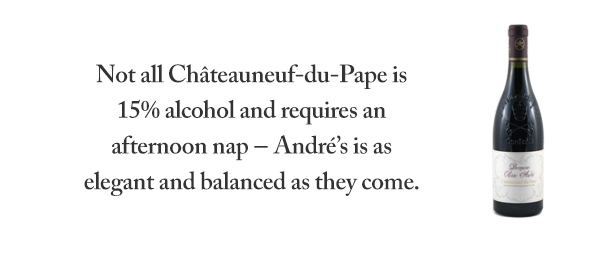 And the wines? In a word, they're exceptional. André makes only one white and one red, focusing all her attention on meticulous detail of the winemaking process. (In 2014, when the harvest was not up to her standards, she sold her entire crop in bulk and released no wine under her label.) The result of her intensity is wine with extraordinary finesse and clarity. They're as complex and rich as classic Châteauneuf, but with a subtlety and grace usually only found in Burgundy and Bordeaux.
The best word to sum up André's 2013 Châteauneuf-du-Pape rouge is refined. The nose is clear and very pure, showing intense red cherries, lavender, and pan drippings. The mouth is perfectly integrated with a smooth and fleshy mouthfeel, firm but pleasant tannins, and a long silky finish. The bottle we opened last week showed plum, licorice, apple tart, and jam on toast.
Not all Châteauneuf-du-Pape is 15% alcohol and requires an afternoon nap — André's is as elegant and balanced as they come.
____________________________
André Châteauneuf-du-Pape 2013
Ansonia Retail: $60
3+ bottle price : $54/bot


FREE EAST COAST SHIPPING ON ANY 12 BOTTLES