It's hard to go wrong with the 2015 red Burgundies. Our favorite reviewers, those with restraint and objectivity, have all been effusive. "One of the half-dozen top vintages for red Burgundy of the past generation," writes Steven Tanzer of Vinous. "A genuinely great vintage," opines Allen Meadows (Burghound).
The vintage was successful at nearly every level — Premier and Grand Crus from 2015 will enhance cellars for decades to come, and even many village-level Burgundies will reward patience handsomely (see Sunday's post).
But 2015's quality reaches all the way down to the Bourgogne level, where everyday wines upgrade to vibrant, juicy, delightful glasses. Today we're suggesting an everyday red Burgundy with far more character than the pricetag suggests.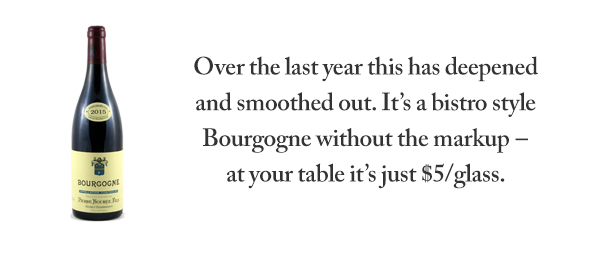 Pierre Bourée is an old-school producer in Gevrey-Chambertin. They use whole clusters and a longer-than-usual maceration, resulting in wines with a rugged character reminiscent of a time gone by. Their 2015 Bourgogne rouge is an excellent entree to this exceptional vintage, showing an intensity and depth usually reserved for wines of higher classifications. It's accessible, ripe, and simply delicious.
Bourée's Bourgogne rouge 2015 doesn't require thought or contemplation — the fruits are ripe and pleasant, making it effortlessly drinkable. The nose is dark and brooding, showing raspberries and stewed cherries. But it's in the mouth where it truly shines — there's a depth and intensity rare for a Bourgogne, with perfectly ripe fruit, juicy tannins, great length, and a clean finish.
Over the last year this has deepened and smoothed out into an even more impressive glass. It's a bistro style red Burgundy without the markup — at your table it's just $5/glass.
____________________________
Bourée Bourgogne 2015
Ansonia Retail: $30
6+ bottle price : $25/bot


FREE EAST COAST SHIPPING ON ANY 12 BOTTLES