Now six years on from the growing season, the 2012 vintage has become a favorite among French wine drinkers. In the Southern Rhône, a dry, sunny summer made for happy vignerons and delicious wines. Nature brought Burgundy a far more difficult vintage — everything from frost to hail to inconsistent flowering made vignerons' lives difficult — but an even more successful one.
Today the 2012s from both regions are drinking beautifully. They've not yet lost all of their youthful fruit, but have gained fascinating and delicious notes along the way. We include four Burgundies (village, premier cru, and two grand crus), and two Rhônes (from Châteauneuf-du-Pape and Gigondas).
Depending on your perspective, six years ago might seem like an eternity or the blink of the eye — but these six are proof of what a little careful aging can do.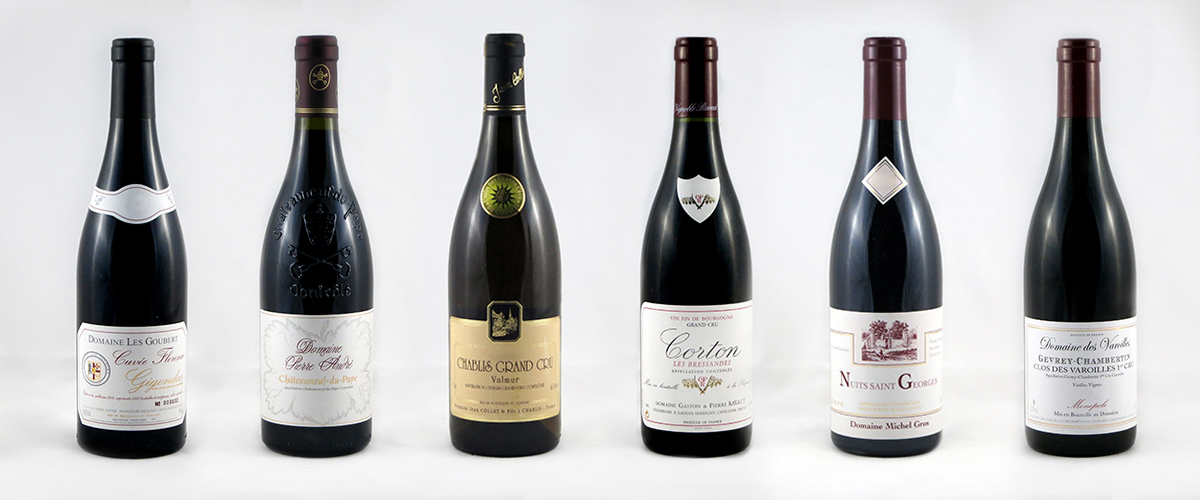 Michel Gros Nuits-St-Georges 2012
This Nuits-St-Georges plot is near the Vosne border, and the wine shows hints of its more floral neighbor. Look for notes of toast, violets, and black cherry.
Varoilles Gevrey-Chambertin 1er cru "Clos des Varoilles" 2012
From a 6 hectare monopole, this is classic, mouthfilling Gevrey-Chambertin. Look for notes of blackberries, cinnamon, and earth.
Ravaut Corton-Bressandes Grand Cru 2012
Bressandes is the most celebrated Grand Cru in Corton. Look for notes of raspberry, cocoa, minerals, and burnt cherries.
Collet Chablis Grand Cru "Valmur" 2012
From one of the seven grand crus of Chablis, this 2012 Valmur received 93 points from Vinous, who called it "seamless" and "terrific." Look for notes of stones, peach, and white pepper.
Goubert Gigondas "Florence" 2012
A Gigondas that shows up many a Châteauneuf-du-Pape, this is raised in small oak barrels. Look for licorice, blackberry jam, lavender, and garrigue.
André Châteauneuf-du-Pape 2012
An iconic Châteauneuf-du-Pape house, organic and biodynamic for decades, with some 140 year old vines. Look for plum, pan drippings, and apple tart.
____________________________
Mixed Case: a 2012 Vintage Sampler
Ansonia Retail: $470
sampler price : $395/half-case


FREE EAST COAST SHIPPING ON ANY 12 BOTTLES