The Grand Crus on the Hill of Corton are some of the longest lived wines in Burgundy. The top names like "Bressandes," Renard," and "Clos du Roi" feature sturdy tannins and intense, robust mouthfeel. Many require years to begin to show their stripes, and some are still in fine form several decades on.
Just to the south of the Hill of Corton lies the town of Aloxe-Corton, home to villages and premier cru vineyards in the same style. They offer the same reward for time in the bottle, but require less time to realize their potential.
Buy a $150 Grand Cru and you'll want to make sure it's fully mature before pulling the cork. At a third of the price, the Domaine Ravaut's 2015 Aloxe-Corton is more flexible.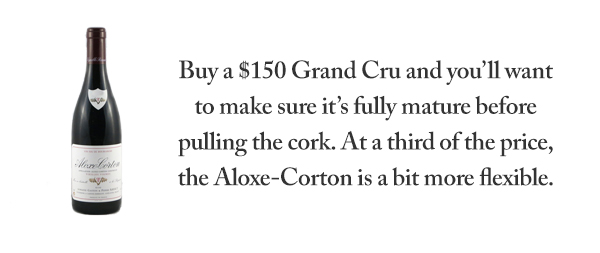 The 2015 vintage is among the finest in recent memory. At the Domaine Ravaut, a small family domaine with an old school style, the 2015s are juicy and delicious. Their simpler red (2015 Côte de Nuits-Villages) is delightful now; and their 2015 Grand Cru Corton-Bressandes will be extraordinary, provided you've got a cellar and some patience.
Ravaut's 2015 Aloxe-Corton offers a happy medium: a 2015 red Burgundy, ready to age for 5-10 years, for under $50. The nose is dark and very dense, with notes of stones and smoke alongside cherry jam and anise. The mouth is young and intense, with perfectly aligned tannins and a very long, sophisticated finish. Jancis Robinson's reviewer remarked: "All in proportion between fruit and structure."
All of Ravaut's 2015 reds are clean, well made, and well priced. Break one of these out in a few years, and you'll be pleased at your foresight.
____________________________
Ravaut Aloxe-Corton 2015
Ansonia Retail: $56
3+ bottle price : $48/bot


FREE EAST COAST SHIPPING ON ANY 12 BOTTLES