Burgundy is in short supply these days. Seven consecutive short vintages, increasing demand from international buyers, and a weak dollar mean that even when you can find them, white Burgundies are noticeably more expensive than a few years ago.
For those in search of White Burgundy value, we have some excellent options in our current March Futures. But in the meantime we've got a few ideas from current stock that are drinking beautifully today.
White Burgundies from Michel Gros and Boyer-Martenot have been popular among readers in the last few weeks — rich, explosive, drink-now, mouthfilling whites for wintery weather. To this genre we add an additional suggestion at an even better price: Belland's Santenay 1er cru blanc 2015.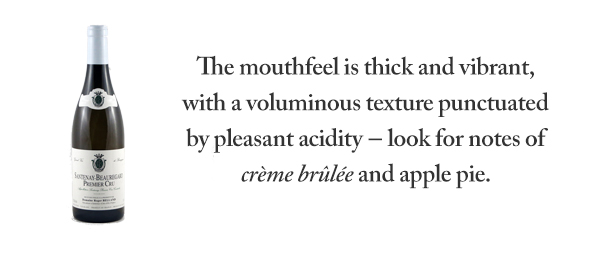 Clive Coates MW calls Roger Belland "one of the best sources in the village." Together with his daughter Julie, Belland crafts excellent wines with cool, fresh fruit and beautiful balance. They are the fifth and sixth generations of the Belland family to work this property, and know their land and vines intimately.
Their 2015 Santenay 1er cru blanc is easy, open, and a delight. It shows baked apple, honey, and white flowers in the nose. The mouthfeel is thick and vibrant, with a voluminous texture punctuated by pleasant acidity — look for notes of crème brûlée and apple pie.
Oak, fruit, and acidity are all in perfect balance — serve this on a Sunday as an aperitif before a lazy afternoon meal.
____________________________
Belland Santenay 1er cru blanc 2015
Ansonia Retail: $42
6+ bottle price : $36/bot


FREE EAST COAST SHIPPING ON ANY 12 BOTTLES