The idea of terroir dominates the wines of Burgundy. From a single grape planted across 30 miles of small towns comes an astonishing diversity of wines. Cellar work, weather, harvest times, and other factors play a role in the final product, but in Burgundy, the place (terroir) is king.
Volnay and Pommard are a particularly good study in terroir. These neighbors feature opposing takes on Pinot Noir: Volnay is known for wines of elegance, Pommard for wines of power. Some Burgundy enthusiasts prefer one over the other — we like them both. But for those who'd rather not choose, today's wine is a Pommard dressed in Volnay robes.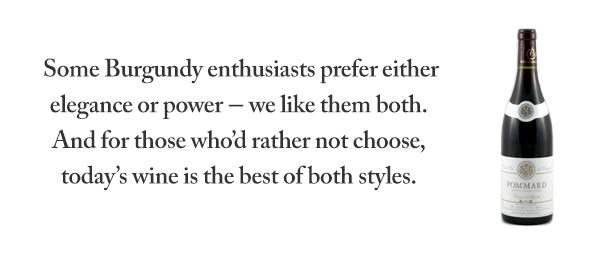 And as you approach the border, the differences between the towns blur a bit, and it's from this gray area that today's wine comes. Though all of its vines are within the Pommard appellation, they majority lie near the Volnay border. The nose is pretty and exotic, with soy sauce and spices alongside the classic raspberry fruit. The mouth shows dry blackberries, with elegant, delicate, long mouthfeel.
The 2014 shows the vintage's classic cool, ripe tannins. Though it will certainly benefit from another few years of cellaring, today half an hour in a carafe dramatically softens the tannins and opens the palate. Paired with a simply prepared peppery steak, this is a delightful glass of classic Burgundy.
____________________________
Mégard Pommard 2014
Ansonia Retail: $62
3+ bottle price : $54/bot


FREE EAST COAST SHIPPING ON ANY 12 BOTTLES