White Burgundy is among the food-friendliest wines around. It's possible to go really specific with the pairing — match a perfectly aged Meursault, open for an hour, with veal medallions in just the right amount cream, a hint of lemon, carefully sauteed mushrooms, a sprig of parsley… you get the idea.
But other times we want a white Burgundy that's uncomplicated and reliable — for a Monday night pasta dish, or a hearty bowl of mussels. Gerard Thomas's Bourgogne blanc has been our go-to white burgundy for nearly a decade now. It has become a "house white" for many of our readers, and for a number of well known restaurants in Boston and Philadelphia as well.
It doesn't make Meursault promises — but it way over delivers for $5/glass.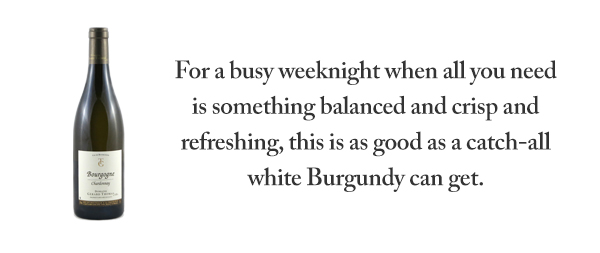 We've just restocked on the excellent 2015 Bourgogne. From an unusually ripe year, the 2015 Bourgogne blanc is richer and denser than usual. The nose is soft and elegant, with hazelnut and wood notes melting into lemon and baked apple fruit. There's plenty of acidity and plenty of body, and it's more mouthfilling than much Bourgogne at its level.
We strongly recommend setting aside a night for a high-end white Burgundy. Meursault, Chassagne, Puligny — even Thomas's exceptional St-Aubins (coming later this week) — these can be some of the most rewarding wines you'll open. But for a busy weeknight when all you need is something balanced and crisp and refreshing, this is as good as a catch-all white Burgundy can get.
____________________________
Thomas Bourgogne 2015
Ansonia Retail: $30
6+ bottle price : $25/bot


FREE EAST COAST SHIPPING ON ANY 12 BOTTLES