Much like Volnay and Pommard we wrote about recently, Vosne-Romanée and Nuits-St-Georges are neighboring towns with opposing characters. Vosne tends towards elegance, finesse, and spice; Nuits towards richness, more structure, and bolder flavors. In the hands of a talented winemaker, both can be superb.
Today's wine not only comes from a supremely talented winemaker, but from an outstanding vintage and an exceptionally well-located plot. Michel Gros's Nuits-St-Georges comes mostly from vineyards lying on the Nuits-Vosne border. The resulting wine shows a splash of the violets and spice for which Vosne is so prized, but beneath that nose a classic Nuits mouth.
This is always one of our favorite cuvées at Gros, and in 2015 it's exceptionally good.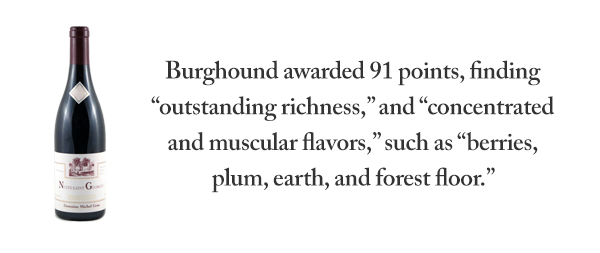 Michel Gros's 2015s are excellent across the board — from his Hautes-Côtes de Nuits all the way up to Grand Cru Clos Vougeot. (You can browse all we have in stock here.) They exhibit the vintage's signature smooth ripe fruit, but alsoh Michel's classic toasty woodsiness.
Gros's Nuits-St-Georges 2015 is delightful today, and should develop for as long as you can keep your hands off it. Burghound awarded 91 points, finding "outstanding richness," and "concentrated and muscular flavors," such as "berries, plum, earth, and forest floor." To this we'd highlight notes of cinnamon and dark flowers, and a bold but silky mouthfeel.
We decant this for an hour or more to soften the tannins, though we'll admit at taking a quick sip or two as it went in. Don't let too many others sniff it, or there may not be enough to go into the carafe.
____________________________
Michel Gros Nuits-St-Georges 2015
Ansonia Retail: $78
3+ bottle price : $69/bot


FREE EAST COAST SHIPPING ON ANY 12 BOTTLES