Morey-St-Denis is a tiny town. After our tasting yesterday at the Domaine Amiot, we strolled a few hundred yards down the town's main street to lunch with Chantal and Jean-Louis. In a four minute walk we paused half a dozen times to exchange greetings with neighbors and friends, and then got waves and handshakes from nearly everyone in the restaurant. There may be only 680 inhabitants in the town, but everyone knows the name Amiot.
Amiot's 2016 are all excellent, but one in particular grabbed our attention yesterday. The Morey-St-Denis 1er cru "Ruchots" vineyard lies a mere 10 feet from the iconic Clos de Tart (see photo; Clos de Tart at left, Ruchots at right). While you might not mistake one wine for the other, it's easy to see why many consider Ruchots the best premier cru in the town. It's a wine of unusual depth and intensity for its class.
The 2016 Ruchots, along with Amiot's other 2016s, will be in the May Futures offering in just over a week. But the magnificent 2015 Ruchots is sitting in our warehouse awaiting your corkscrew. Clos de Tart deserves its praise and acclaim, but at $250 a bottle it's nice to have a more affordable neighbor at the ready. For those in search of a special red Burgundy from an exceptional location, we offer "Ruchots."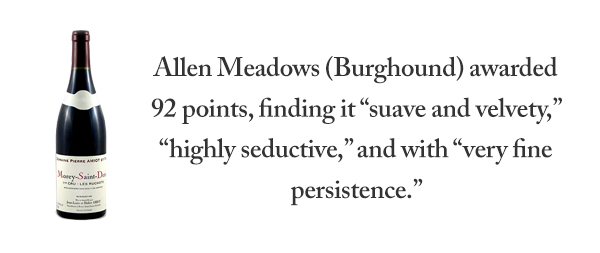 From an acre of vines, the Amiot family makes just 200 cases of this wine per year. Their vines, planted in the 1950s, produce concentrated, intense red Burgundy. Allen Meadows (Burghound) awarded the 2015 92 points, finding it "suave and velvety," "highly seductive," and with "very fine persistence."
This wine is enough to prove that Morey-St-Denis is much more than just a stop between Chambolle-Musigny and Gevrey-Chambertin. Its nose is dark and spicy, with hints of earth and smoke. The mouth is ripe, rich, and long, with blackberry and woodsy flavors. There's enough structure to keep this aging beautifully for a decade, but like most 2015s, it's a mouthful of juicy, very fine Burgundy today.
____________________________
Amiot Morey-St-Denis 1er cru "Ruchots" 2015
Ansonia Retail: $86
3+ bottle price : $78/bot


FREE EAST COAST SHIPPING ON ANY 12 BOTTLES