Yesterday afternoon we visited Michel Gros, our best known winemaker for Côte de Nuits reds. We barrel-tasted his 2016s, which are exceptionally good — this vintage will be far better than critics' early predictions. At the end of a long tasting, Michel poured us tastes of his only white wine, from the Hautes-Côtes de Nuits, in both 2015 and 2016.
The 2016 (available this fall), is great — lively and rich with tension and lots of character. The 2015 (in stock now), was just delightful. From a year with perfect ripeness and medium acidity, it was rich and round with lovely young freshness and a terrifically long finish. It drank like a wine from a far fancier zip code.
We try to handicap our tastings for context — everything tastes better in the morning, and at the end of a long day of tasting it's far harder to detect nuance. So yesterday afternoon, after eight hours of tasting more than 60 wines, that Michel's 2015 blanc must be the real deal to have been so impressive.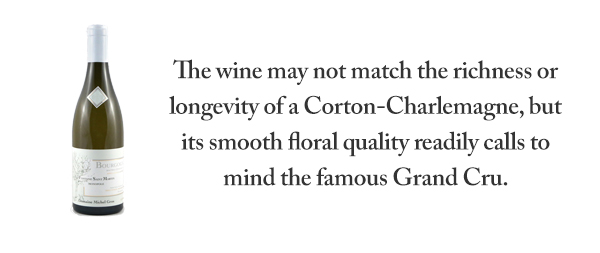 There aren't (yet) any premier crus in the Hautes-Côtes de Nuits, but Michel's would almost certainly be among the first. The vines grow in a small plot called "Fontaine Saint Martin," a vineyard whose soil matches the mix of marl, clay, and limestone found in the vineyards of Corton-Charlemagne a few miles away. The wine may not match the richness or longevity of a Corton-Charlemagne, but its smooth floral quality readily calls to mind the famous Grand Cru.
From a rich year with perfect ripeness, the 2015 Fontaine-St-Martin blanc is a wine to enjoy immediately. It's open, approachable, and will fit perfectly into your spring white wine lineup. Burghound found "fine richness" and "round and utterly delicious flavors." The nose is floral, showing gardenia, white pepper, pears, toasted lemon. The mouth is intense and smooth, at once mouthfilling and fresh.
It's a perfect cocktail white — don't tell your guests it's not from the hill of Corton, and they'll never know how little you paid for it.
____________________________
Gros Hautes-Côtes "Fontaine St-Martin" blanc 2015
Ansonia Retail: $38
3+ bottle price : $32/bot


FREE EAST COAST SHIPPING ON ANY 12 BOTTLES