We arrived yesterday afternoon in Provence. It's lovely here — the sun is warm, the light is crisp, and the wind whistles through the craggy olive trees. If we could bottle the feel of Provence and bring it back we certainly would. (Apologies to any readers who were at yesterday's marathon — that last paragraph may have been painful.)
We think the next best thing to a bottle of Provence is a bottle of Châteauneuf-du-Pape. The best Châteauneufs all contain a splash of southern sunlight, combining the region's rugged earthiness with rich, mouthfilling fruit. We wish you could join us today as we taste in Châteauneuf-du-Pape — but to save you a plane flight, we can offer an exceptional bottle from one of the appellation's foremost growers.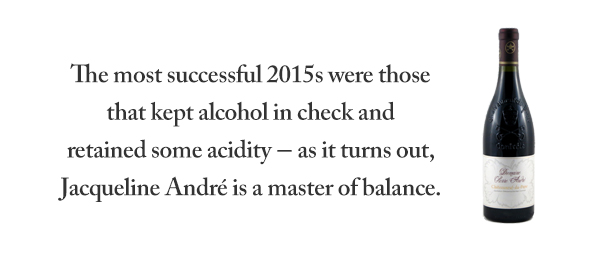 The 2015 Pierre André Châteauneuf-du-Pape is magnificent. From a vintage dubbed one of the best in the last dozen years, the 2015s offer immediate enjoyment. The most successful 2015s were those that kept alcohol in check and retained some acidity — as it turns out, Jacqueline André is a master of balance.
She tends her ancient (up to 140-year-old) vines using biodynamic farming, which helps the wines keep their freshness and enhances their complexity. André's 2015 Châteauneuf-du-Pape is deep, intense, and enormous, but achieves it all without becoming flat or dry.
Look for notes of plum, licorice, raspberry jam, and tapenade in the nose — the mouth is dense and extremely long, with bold flavors of cherry jam and wood bolstered by rich, voluptuous tannins. It may not feel like Provencal summer on the east coast these days, but a sip of this will take you awfully close.
____________________________
André Châteauneuf-du-Pape rouge 2015
Ansonia Retail: $70
2+ bottle price : $62/bot


FREE EAST COAST SHIPPING ON ANY 12 BOTTLES