The best kept secret in a Burgundy collector's cellar is his stash of St-Aubin. From a forgotten valley wedged between the superstar towns of Chassagne-Montrachet and Puligny-Montrachet, the wines of St-Aubin are some of the most overperforming wines we know. Jancis Robinson calls it now "virtually the equal" of its famous neighbors.
Last month we wrote about Gérard Thomas's excellent village-level St-Aubin; today we're suggesting their Premier Cru. From a beautiful plot overlooking the hill of Montrachet, the "Murgers des Dents de Chien" is only a few hundred yards from Montrachet itself.
If the village-level St-Aubin is a promising minor-league prospect, the premier cru has unmistakably gotten the call to the big leagues.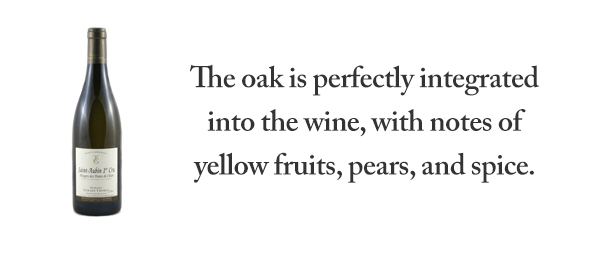 The St-Aubin 1er cru is exquisite wine — consistently excellent year in and year out. It's polished and modern, and drinks like a far fancier wine. A local sommelier recently sent us a picture of the 2013 Murgers next to a Ramonet Chassagne-Montrachet 1er cru, and said the Thomas was easily the better bottle.
The 2016 is a return to the classic style of this wine. The texture is rich and intense, but with excellent freshness and a clean minerality. The oak is perfectly integrated into the wine, with notes of yellow fruits, pears, and spice. Jancis Robinson calls the mouth "rich, gently textured, and still beautifully fresh."
At this rate St-Aubin won't be a secret much longer — here's a chance to stock up before it catches up with the Montrachets.
____________________________
Thomas St-Aubin 1er cru "Murgers" 2016
Ansonia Retail: $52
3+ bottle price : $45/bot


FREE EAST COAST SHIPPING ON ANY 12 BOTTLES