When the words "muscular" and "red Burgundy" appear together, Gevrey-Chambertin is likely the subject. The wines of Gevrey-Chambertin are generally considered Burgundy's richest, and can be among the longest lived. Clive Coates MW calls them "sturdy, rich, masculine" and "fleshy," concluding that they're "more flamboyant than Vosne, and more substantial than Chambolle."
We're pleased to have three excellent producers making wines in the town, and we've collected six of our favorites into today's half-case sampler. They are three village-level wines and three premier crus from two recent stellar vintages: 2014 and 2015.
If "light" is your idea of red Burgundy, you haven't tried these…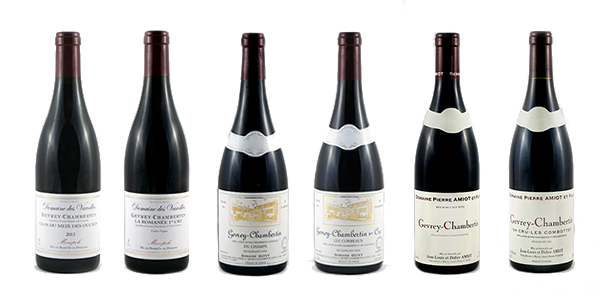 VAROILLES Gevrey-Chambertin "Clos du Meix des Ouches" 2014
VAROILLES Gevrey-Chambertin 1er cru "La Romanée" 2014
The Domaine des Varoilles is our newest source for red Burgundy. Their style is classic Gevrey — rich, bold, and extracted. Both of these vineyards are monopoles, and the quality is excellent. Meix des Ouches is a village with unusual ripeness and mouthfilling texture; Romanée is an exceptionally elegant premier cru combining the boldness of Gevrey with the elegance of Vosne.
QUIVY Gevrey-Chambertin "En Champs" 2015
QUIVY Gevrey-Chambertin 1er cru "Corbeaux" 2014
Gerard Quivy's style is a bit less extracted than Varoilles, but these have the unmistakable dark fruit and earthiness of true Gevrey. The Guide Hachette calls Quivy "a reference point for Gevrey." The village level En Champs comes from very old vines, which adds to its complexity and depth. The premier cru Corbeaux is similarly dark and brooding, and drinks quite well young.
AMIOT Gevrey-Chambertin 2015
AMIOT Gevrey-Chambertin 1er cru "Les Combottes" 2014
Jean-Louis and Didier Amiot are based in neighboring Morey-St-Denis, but their Gevrey-Chambertins are excellent. Amiot's style is sophisticated and modern, with careful oak and perfect extraction. Their 2015 Gevrey-Chambertin is remarkably delicious today, showing dense fruit and a beautiful long mouthfeel. The "Combottes" vineyard is among the finest 1er crus in Gevrey-Chambertin, surrounded on all sides by Grand Crus — it is as rich and impressive as its location suggests.
____________________________
Gevrey-Chambertin Sampler (6)
Ansonia Retail: $486
sampler price : $395/half-case


FREE EAST COAST SHIPPING ON ANY 12 BOTTLES