The most important thing in winemaking is the marriage of grape and place. Chardonnay grows on nearly every continent, but only in Burgundy does it produce such superlative results. Syrah in the Northern Rhône, Merlot in Bordeaux, Riesling in the Mosel, Chenin Blanc in the Loire — these matches have been perfected over centuries of winemaking.
Also on that list is the marriage of Sangiovese to Tuscany. The grape can be found around the world, but its finest expression comes from the hillsides of central Italy. Our Franco-centric portfolio doesn't leave much room for Sangiovese, but we'd have a customer revolt if we ever dropped the Fattoria Poggerino.
Poggerino's 100% Sangiovese reds are approachable, delicious, and affordable. The new crop has just arrived in the warehouse, and we're excited to release the 2014 Chianti Classico today.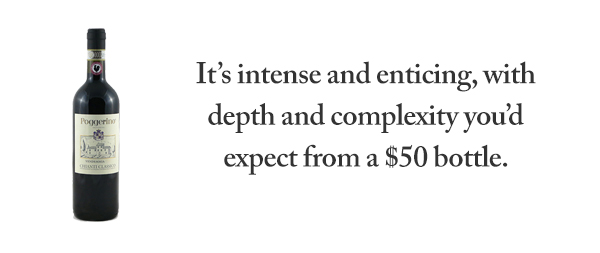 Poggerino's Chianti Classico 2014 is a delightful wine. It's juicy and vibrant, showing the purity and expressiveness possible only through organic farming. It's intense and enticing, with depth and complexity you'd expect from a $50 bottle. The nose is deep and dark, with notes of raspberries, dried roses, and stones; the mouth is long and also floral, with perfectly extracted tannins and plum and spice on the finish. Jancis Robinson found it "beguiling, pure and lithe."
We'd carafe this for a half hour and serve it with anything tomato based — Marcella Hazan's impossibly simple pasta sauce is a staple around our house, and pairs beautifully. Or put together a plate of charcuterie and hard cheeses. And if you've got a stone and a hot oven, pair this with a pizza (homemade dough takes about 15 minutes) and you'll be transported to Tuscany.
____________________________
Poggerino Chianti Classico 2014
Ansonia Retail: $30
6+ bottle price : $25/bot


FREE EAST COAST SHIPPING ON ANY 12 BOTTLES